Name: Charles Antenen

Nickname: "Kiki"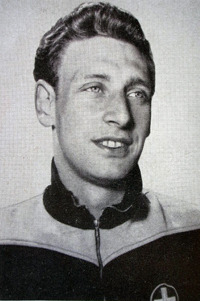 Country:
Switzerland
Club: FC La Chaux de Fonds
Position: *
WF
,
SS
Side: RF/RS
Age: 21-26 years (03/11/1929)
Height: 174 cm
Weight: 68 kg
Attack:
85
Defence:
38
Balance:
78
Stamina:
79
Top Speed:
85
Acceleration:
88
Response:
80
Agility:
90
Dribble Accuracy:
88
Dribble Speed:
83
Short Pass Accuracy:
79
Short Pass Speed:
71
Long Pass Accuracy:
81
Long Pass Speed:
72
Shot Accuracy:
85
Shot Power:
83
Shot Technique:
86
Free Kick Accuracy:
75
Curling:
78
Header:
75
Jump:
83
Technique:
87
Aggression:
88
Mentality:
79
Goalkeeper Skills:
50
Team Work:
77
Injury Tolerance:
B
Condition/Fitness:
7
Weak Foot Accuracy:
7
Weak Foot Frequency:
7
Consistency:
8
Growth Type:
StandardCARDS
:
P06
: Speed Merchant
P07
: Mazing Run
S01
: Reaction
S05
: 1 Touch Play
S14
: Quick Turn
SPECIAL ABILITIES
: Dribbling - Reaction - Scoring - 1 Touch Pass
Attack/Defence Awareness Card
: Attack Minded
INFO
:
In his hometown of La Chaux-de-Fonds in the canton of Neuchâtel Antenen Charles learned the game of football in the youth department of the local football club. From 1941 to 1965 he held the yellow and blues in the Parc des Sports de la Charrière loyalty. Only in the 1952/53 season he played with the blue-white sport of Lausanne and attended the 7th Place, a rank in front of La Chaux. "Kiki" Antenen became one of the most popular of the Alpine country kickers of all time. He was a striker, usually on the right wing or in the inside right connection. Although he was top scorer in the National League A in his long career, never, he did it in 444 Premier League matches to 233 gates. In the 1954 World Cup, he celebrated the first championship win, ten years later, in 1964, he became the third champion to La Chaux-de-Fonds. The age of 19, he celebrated the first trophy success in 1948 after three finals against FC Grenchen. The first two finals on the 29th March and 18 April each after extra time ended 2-2 draw. For the 4-0 win at the third attempt on 27 June steered the talent on two hits. When he on 23 April 1961 in Bern's Wankdorf Stadium after the 1-0 win over the sixth cup victory Biel celebrated the Karlsruhe Kurt Sommerlatt as player-manager for sporting affairs was at FC La Chaux-de-Fonds responsible. In the 1961/62 and 1964/65 rounds Antenen also had his business card shown in the European Cup. By 36, he finished after round 1964/65 - in sixth - his career. Still 18 years old, Charles Antenen celebrated on 20 June 1948 in Zurich a 3-3 draw with Spain his debut in the Swiss national football team. At the first World Cup after the Second World War on 25 June to 16 July 1950 in Brazil, Switzerland took part as a European representative in addition to Yugoslavia, Sweden, Italy, Spain and England. "Kiki" played against Yugoslavia and Mexico. In both games, he managed one goal. The sensational 2-2 draw with Brazil, he paused. The next World Cup in 1954 took place in the native Switzerland. Antenen stormed in the 0-2 defeat by England, 4-1 in the decider against Italy and the legendary quarter-final on 26 June in Lausanne against Austria, which ended after a 3:0 lead lost with 5:7 goals. As a veteran performer and he was involved in the games against Belgium and Sweden significantly between 1960 and 1961 in the successful qualification for the World Cup 1962nd He played in all five games and also contributed five goals. Even in a 2-1 victory on 12 November 1961 in Berlin in the decider against the vice world champion of 1958, Sweden, he entered his name on the scoresheet. The third World Cup finals in 1962 earned him three other finals matches against Chile, Germany and Italy. With the game on 7 June 1962, Santiago Estadio Nacional against Italy, he ended his fourteen-year career in the national team. Overall Antenen brought it to 56 missions in the Swiss national team, scoring 22 goals.