STATS BY JEANMARC & EL MAGO 10



Name: Francisco Martín Arencibia

Nickname: "Pancho", "El Divino Calvo"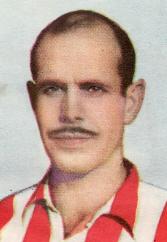 Country:
Cuba
Club: Club Atlético de Madrid
Position: *
AMF
,
CMF
,
DMF
,
SS
,
CF
Side: RF/BS
Age: 26-30 years (28/12/1912)
Height: 177 cm (app.)
Weight: 75 kg (app.)
Attack:
84
Defence:
58
Balance:
81
Stamina:
83
Top Speed:
78
Acceleration:
80
Response:
81
Agility:
79
Dribble Accuracy:
86
Dribble Speed:
78
Short Pass Accuracy:
92
Short Pass Speed:
79
Long Pass Accuracy:
90
Long Pass Speed:
78
Shot Accuracy:
80
Shot Power:
82
Shot Technique:
77
Free Kick Accuracy:
71
Curling:
73
Header:
90
Jump:
84
Technique:
87
Aggression:
79
Mentality:
81
Keeper Skills:
50
Team Work:
90
Injury Tolerance:
B
Condition/Fitness:
5
Weak Foot Accuracy:
6
Weak Foot Frequency:
6
Consistency:
6
Growth Type:
Late Lasting
CARDS:
P
08 Pinpoint Pass
P
20 Talisman
S
02 Passer
S
05 1-touch Play
SPECIAL ABILITIES:
Playmaking - Passing - 1 touch Pass
Attack / Defence Awareness Card: Attack Minded
INFO:
The architect of Atletico team which won league titles in 1940 and 1941. He was inside right mainly in Atletico and right wing half mainly in Tenerife, but because of his fantastic heading abilities he was used also as centre forward. Great playmaker with excellent vision, strong physically and endurable, highly accurrate passes on short and long distance, sublime footwork and teamworking play, good scorer and provider. Elegant and gifted technically, he was the leader already at the age of 18 of the best ever Tenerife generation in 30's. Francisco Martin Arencibia born in the island of Cuba in 1911. Son of Canarian family emigrated to the Caribbean pearl boy returned with his family who settled in Icod de los Vinos (Tenerife) and little later in La Laguna as a student. In the 'city of the developed' begins Arencibia his brilliant career in the world of football. At 15 he already played for Real Hesperides, which highlights in confrontations with rival islanders were Deportivo de Tenerife, and the Royal Victoria and Marino Las Palmas. Team of La Laguna, Tenerife Deportivo spent where it reached the highest levels in football canary then. Since 1930, Arencibia is part of the great team that was Champion CD Tenerife Canary Islands and participated in the Cup of Spain 1932. With the blue and white starred in memorable friendly Santa Cruz Stadium against rivals like Madrid FC and San Sebastian in 1932 with the CD Tenerife. Both teams were talked defeats Spaniards Espanyol who led Arencibia box. Tenerife This team consists of players will soon confirm its category at being tagged, most of them, 1st Division teams. In the following seasons measured all-white major forces with teams like Spanish, Athletic Bilbao, the Austrians from Vienna or the English Everton. He also played matches against Liverpool Liverpool, against Atletico Madrid and Las Corts at FC Barcelona where they made great games of Tenerife. In late 1935, for 35,000 pesetas and a monthly salary of 1,500 pesetas, which was a high figure at the time, is produced Arencibia signing from Atletico Madrid. Then travel to the capital of Spain and debuted with the mattress against Bilbao At Vallecas field, scoring one goal in a match that ended in defeat 1-2. It is fixed as a starter and brand in the following days. Play 9 games and mark 5 goals in that season. It breaks all the outbreak in July 1936 civil war. After three years of break in the football competition, Tenerife striker who during the war had joined the Atlético Aviación involved in conquering the first two League Atletico history (1939-40 and 1940-41). Led off the bench by the legendary goalkeeper Ricardo Zamora, were that memorable team Tabales; Mesa, Aparicio, Gabilondo, German, Machin, Manin, Arencibia, Pruden, Campos and Vazquez. In this team Arencibia played alongside other players table islanders, Campos, Machin, World, and others who come in later years. During the six seasons following the company continued in Madrid. In the first one there was another singular event in his career, as was the debut at the Olympic Stadium in Berlin with the National Team. It was on April 12, 1942 and Spain tied to one with Germany, thanks to a penalty goal Campos. An injury Chus Alonso of Real Madrid, which replaced, made ​​possible the dream of internationality, against the powerful German squad, which included Austrian players following the Nazi annexation. Tenerife was the second that he could wear the shirt "red" after Angel Arocha, who died at the front in 1937. He scored 56 goals with Atletico in 138 league games he played in 1946-47 First up. That same year he joined Granada Arencibia, who was active in the Second Division with which he played until age 37. With the completion of this stage, in 1949 became the first coach of the newly created Union Deportiva Las Palmas, directing the first team training amarilo the September 16, 1949 at the Stade de Las Palmas. Two months later resigned for business reasons. Gradually, Arencibia was gradually becoming distant foreground football, while afincaba in Gran Canaria, where he worked as Civil Aviation employee at the airport of Las Palmas. He died in 2004, aged 94 in the capital of Gran Canaria.