Name: Johannes Theodor Louis Pløger

Nickname: "Aladdin"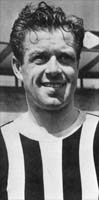 Country:
Denmark
Clubs: Boldklubben Frem (1945-1948), Juventus F.C. (1948-1949), Novara Calcio (1949-1950), Torino F.C. (1950-1951), Udinese Calcio (1951-1953)
Position: *
WF
,
CF
Side: RF/RS
Age: 23-31 years (03/04/1922)
Height: 173 cm
Weight: 70 kg
Attack:
82
Defence:
37
Balance:
74
Stamina:
79
Top Speed:
88
Acceleration:
86
Response:
77
Agility:
85
Dribble Accuracy:
82
Dribble Speed:
83
Short Pass Accuracy:
75
Short Pass Speed:
67
Long Pass Accuracy:
77
Long Pass Speed:
71
Shot Accuracy:
81
Shot Power:
85
Shot Technique:
80
Free Kick Accuracy:
71
Curling:
73
Header:
82
Jump:
85
Technique:
84
Aggression:
89
Mentality:
77
Keeper Skills:
50
Team Work:
70
Injury Tolerance:
B
Condition/Fitness:
6
Weak Foot Accuracy:
5
Weak Foot Frequency:
6
Consistency:
5
Growth Type:
Standard
CARDS:
P06:
Speed Merchant
S05:
1-touch Play
SPECIAL ABILITIES:
1 touch Pass
Attack / Defence Awareness Card: Attack Minded
INFO:
One of key members from great Danish team of '48 Olympic Games. Ploger played mainly as right winger and centre forward, he was very aggressive and fast player who was also good scorer, especially when he played in Denmark meanwhile in Italy due to injuries and aging he never managed to score too many goals. He was technically skillful player with good heading abilities and great shot. But in Italy he didn't show his full potential, mainly because he was too fragile for playing as centre forward and not being adapted to play as classic winger although he was fast with solid dribbling and crossing but he was kind of player who would receive the ball and start to rush towards the goal without hesitation, never wasted too much time on unnecessery dribblings. Ploeg helped to win the DM with the UP in 1941 and 1944 and KBU Cup finals; on 3.11.1940 against KB 4-3. 1 goal, 21.4.1944 against B. 93 3-2 and 3.11.1946 against AB 7-2. Also participated in the 2 lost finals; 19.11.1939 against B. 93 1-2. 1 goal and 5.11.1944 against AB 1-3. Was involved in all of Denmark 4 matches at the Olympics in London in 1948 and was able to gain a bronze medal. He scored 1 goal in the famous 5-3 victory over Italy, but this was overshadowed by John Hansen's 4 goals. He was sold to Italy, like most of the Olympic team. Games for 4 different Italian clubs. An appendicitis ruined his stay in Juventus. A general problem was that Italians could match him in speed, when he was a little older. Simultaneously, he was plagued by an old leg injury he received at the beginning of his career and was a larger and larger hancicap with time. Before he went to Italy, has trained as a stock clerk at SIMO in 1942. When he returned as a wealthy man, he was sold and later sales director at SIMO in Finsensvej who negotiated the Ford cars. Later he had a wine & tobacco shop, which he did together with his wife. His surname was actually, if it should be entirely correct Plogger (from his German ancestors). His brother Henry (born 13.11.1918) got 35 matches as a right back / 0 goals for UP (1941-48). Johannes died in 1991.