Name: Andrea Bonomi

Nickname: "Ciapin"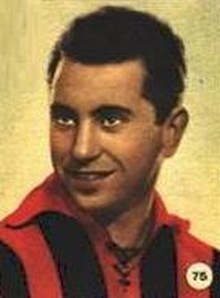 Country:
Italy
Club: AC Milan
Position: *
DMF
,
SB
,
CB
Side: LF/LS
Age: 22-28 years (14/02/1923)
Height: * 170 cm (not found)
Weight: * 71 kg (not found)
Attack:
61
Defence:
81
Balance:
83
Stamina:
84
Top Speed:
81
Acceleration:
79
Response:
81
Agility:
78
Dribble Accuracy:
73
Dribble Speed:
75
Short Pass Accuracy:
75
Short Pass Speed:
72
Long Pass Accuracy:
77
Long Pass Speed:
75
Shot Accuracy:
62
Shot Power:
78
Shot Technique:
63
Free Kick Accuracy:
60
Curling:
63
Header:
79
Jump:
82
Technique:
74
Aggression:
61
Mentality:
85
Keeper Skills: 50
Team Work:
78
Injury Tolerance:
B
Condition/Fitness:
6
Weak Foot Accuracy:
5
Weak Foot Frequency:
5
Consistency:
6
Growth Type:
Standard
CARDS:
P04:
Anchor Man
S08:
Slide Tackle
S09:
Covering
SPECIAL ABILITIES:
Covering - Sliding
Attack / Defence Awareness Card: Defence Minded
INFO:
Andrea Bonomi is former Milan legend. He played mainly as left back and left or right wing half, typical defensive player not blessed with superb skills and technique but strong and determined in tackles, with good doze of astuteness and temperament, tireless fighter on the pitch, elegant and brave became one of the engines of Milan and it's captain. Bonomi began his career in 1942 in the ranks of Milan, for which he debuted in Serie A on November 22, 1942 in Torino - Milan 0-1. That season he played 3 more games in the top flight. With the Rossoneri played the championship of the 1944 war and then another 7 seasons, all as a starter and the last three as captain. During his time in Milan he won a championship in 1951. In 1952 he moved to Brescia in Serie B, where he stayed for two seasons before moving on to Piacenza, where he closed his career in 1955. Bonomi in his career he played one game with the Italian national team, against Switzerland in November 25, 1951 (1-1). The "captain" Bonomi final performance with the Milan speaks of 231 league appearances and scored 3 goals. When Bonomi was six years old, he fell in Adda River and was about to drown when a 10-year old boy rescued him. Ironically, his rescuer was Valentino Mazzola - who later became one of the greatest Italian football players and was the captain of the Grande Torino team of the 1940s. Andrea Bonomi died on 26/11/2003.
Nils Liedholm:
""He was a true captain. A quiet person, always ready to lend a hand. He wanted to do everything possible to facilitate the integration to us from Sweden, since we did not speak Italian. There was only one little problem: in addition to Italian Andrea spoke only in Milan dialect. It 'was hard to understand, but little by little we have done it. Of course with us that spoke Swedish a jumble of words came out that made ​a lot of laughs. On the field, however, with Omero Tognon and Carletto Annovazzi, Andrea formed a great half line. "