STATS BY JEANMARC & ALBO



Name: Naim Kryeziu

Nickname: "Freccia di Tirana"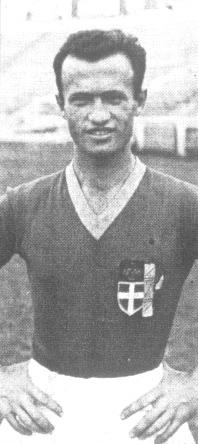 Country:
Albania
Club: AS Roma
Position: *
WF
Side: RF/BS
Age: 23-28 years (04/01/1918)
Height: 170 cm
Weight: 73 kg
Attack:
82
Defence:
39
Balance:
81
Stamina:
79
Top Speed:
91
Acceleration:
88
Response:
76
Agility:
85
Dribble Accuracy:
84
Dribble Speed:
86
Short Pass Accuracy:
77
Short Pass Speed:
70
Long Pass Accuracy:
81
Long Pass Speed:
75
Shot Accuracy:
79
Shot Power:
86
Shot Technique:
77
Free Kick Accuracy:
73
Curling:
70
Header:
70
Jump:
74
Technique:
84
Aggression:
89
Mentality:
76
Keeper Skills:
50
Team Work:
79
Injury Tolerance:
B
Condition/Fitness:
7
Weak Foot Accuracy:
7
Weak Foot Frequency:
7
Consistency:
7
Growth Type:
Early/Lasting
CARDS:
P06:
Speed Merchant
P12:
Incisive Run
S01:
Reaction
SPECIAL ABILITIES:
Dribbling - Side - Reaction
Attack / Defence Awareness Card: Attack Minded
INFO:
Krieziu Naim was born in Djakovica, Kosovo, on 1 January 1918 and was a Kosovo Albanian footballer, famous in Italy during the years 1940 and 1950. Naim was a striker Kryeziu Sports Club, Tirana, which became the champion of Albania in 1939, winning the Albanian Cup 1938-39. Debut in Serie A on 10/03/1940: Roma-Bari 4-2 (Week XXII). In team play Riza Lushta Bar: another Albanian footballer, Lushta Bar marks for the 1-1 equalizer goal was his first goal. Kryeziu Naim was certainly among the Albanian football greats with Riza Lushtën the mid thirties until the second half of forty years. They did not just name the title of Italy won the Kryeziu with Rome on 14 June 1942. In 1946 Ludovic Jakova, zëvendëstrajner the Albanian National Football Team being created, came twice to convince Kryeziu Italy to play in the eighth edition of the Balkan League. For contractual obligations pranonoj could not, however, the Albanian National took first place in the first manifestation of post-war National. Kryeziu coach became the first professional category: zëvendëstrajner of Rome from 1962 until 1965 and head for six months in the 1963-64 edition, before reaching the Spaniard Luis Miro; Kryeziu period sufficient to prepare the team would win Cup of Italy. Today Kryeziu is in the Pantheon of the most famous players of Rome. He played for the team A.Ş. Roma with whom he won the season title in 1941-42 and also played with the team AC Naples from 1939 until 1953. He also was coach of the team A.Ş. Rome in the years to 1960, and director general, task in which Giuseppe Giannini discovered talent when he played for the team Frattocchie Marino.