Name: Henri Baillot

Nickname: "Lai"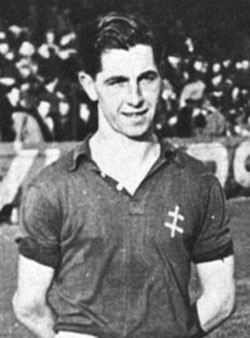 Country:
France
Clubs: FC Metz (1946-1950), FC Girondins de Bordeaux (1950-1952), Racing Club de Strasbourg (1952-1953)
Position: *
WF
,
CF
Side: RF/RS
Age: 22-29 years (13/12/1924)
Height: 170 cm
Weight: 70 kg
Attack:
86
Defence:
33
Balance:
81
Stamina:
78
Top Speed:
85
Acceleration:
83
Response:
81
Agility:
84
Dribble Accuracy:
80
Dribble Speed:
82
Short Pass Accuracy:
74
Short Pass Speed:
67
Long Pass Accuracy:
75
Long Pass Speed:
73
Shot Accuracy:
84
Shot Power:
88
Shot Technique:
81
Free Kick Accuracy:
71
Curling:
69
Header:
77
Jump:
81
Technique:
81
Aggression:
89
Mentality:
82
Keeper Skills:
50
Team Work:
73
Injury Tolerance:
B
Condition/Fitness:
8
Weak Foot Accuracy:
5
Weak Foot Frequency:
5
Consistency:
7
Growth Type:
Standard
CARDS:
P11:
Cut Back Pass
S01:
Reaction
S05:
1-touch Play
SPECIAL ABILITIES:
Scoring - Reaction - 1 touch Pass
Attack / Defence Awareness Card: Attack Minded
INFO:
Henri Baillot is former French player. He played mainly as outside right and centre forward. Surely among the best French strikers of his generation. Very athletic player, strong, brave and cunning. Baillot had very powerful shot, good pace and scoring capacities. Henri Baillot played as a teenager at a club in a suburb of Metz, where he was discovered by the President of Erstdivisionärs FC Metz in 1945 and offered him a professional contract. Already 1946/47 with 21 goals the first time near the front (Rank 8) in the league scoring charts, and was it in the next four seasons to find ., third in 1949 and 1951 with 25 and 22 hits even provided on the site. His team, however, came in the championship, never a double-digit ranking in the final tables out - a tenth place in 1947. Outside the stadium was Henri Baillot, who had brought back from the war a permanent injury (stiff right arm), as a "bon vivant" of this reputation may have had his high player salary contributed to the end of the 1940s, supposedly old by 100,000 francs should have been situated above that of colleagues, who were playing at a much more successful clubs - per month - after former purchasing power around 1,300 DM. In any case justified the team committee of the Vice-Champion and multiple cup winner Lille around the year 1949/50 so explicitly its call on the President Louis Henno to a significant increase in revenue. When the FC Metz at the end of the descend season 1949/50 had, the newly crowned champion committed Girondins Bordeaux striker - for this "mega-transfer" of the French League demanded Metz FF 7 million plus the player Camille Libar (Baillot even spoke of 8 million, of which he even 15 % get a "signing bonus" was). In the Girondins he was part of a strong offensive line to whose reputation he contributed in the following two seasons and even 35 point game goals. Referred runner in the league and the Cup finalist in both competitions, but OGC Nice to second place: In the Division 1 team in 1951 completed his sixth place from, and in 1952 he succeeded with it his most successful year. In particular, the final of the Coupe de France inspired his contemporaries because of its well over an hour for most open course of a game where both teams appeared unconditionally offensively. L'Equipe reported the next day 27 shots on goal from Bordeaux and 20 of Nice, which was won, however, despite two-hit 5-3 Baillot. President Vincent Auriol enthused with the trophy: "This match reminded me of a Viennese waltz". However, Henri Bordeaux Baillot left immediately afterwards, because his girlfriend did not feel comfortable there, and played for Racing Strasbourg, antretend in the season 1952/53 only in the second division. Ten months later he returned with the Alsatians back in the Premier League after they had established themselves as a third in the table following Barrages against Stade Rennes UC. But at the turn of 1953/1954 sold his Strasbourg striker, who had 16 points for wagers made at least six times, calculated at Rennes. There was one attack, the experienced tandem Baillot / Grumellon the most dangerous to the second league season 1954/55, which the Bretons opened the opportunity for revival. However, after Rennes in the Barrages at Lille failed and he increasingly suffered from a knee injury ended his pro career Henri Baillot. Later he trained the AC Bar-le-Duc. Between June 1948 and May 1950 Henri Baillot was in eight international matches the blue A-National Dress and shot it four goals. He made his debut in a 4-0 victory against Czechoslovakia in Prague, he managed against the same one hit, and he was subsequently taken into account in the following encounter. In the spring of 1949 when he was missing three games, but was in June against back again to Switzerland, contributed again with a goal for a 4-2 success and founded the right-winger. In October 1949, followed by a real test since France in the World Cup qualifier against his nemesis ("bête noire") Yugoslavia had to compete. Both in Belgrade and in the return match in Colombes Baillot scored the only French each hit - both games ended 1-1 - and the next day was celebrated in the media for its "really strong form" Two weeks later he was again at one. victory over the Czechs in the field, but for the decider against Yugoslavia in mid-December he had to cancel due to injury, it was subject to France with 2:3 after extra time, which denied the Bleus for the first time to participate in the World Cup finals. Henri Baillot returned in the spring of 1950 back into the national team, which lost 0-1 against Scotland. In 2000 Henri died near Metz at the age of 76.