Name: Henri Guérin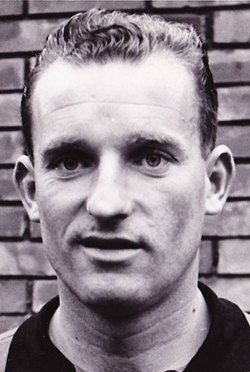 Country:
France
Club: Stade Rennais FC
Position: *
CB
,
SB
Side: RF/RS
Age: 24-30 years (27/08/1921)
Height: * 178 cm (not found)
Weight: * 81 kg (not found)
Attack:
57
Defence:
84
Balance:
84
Stamina:
82
Top Speed:
87
Acceleration:
81
Response:
81
Agility:
77
Dribble Accuracy:
70
Dribble Speed:
76
Short Pass Accuracy:
73
Short Pass Speed:
70
Long Pass Accuracy:
73
Long Pass Speed:
75
Shot Accuracy:
62
Shot Power:
81
Shot Technique:
61
Free Kick Accuracy:
59
Curling:
58
Header:
82
Jump:
87
Technique:
72
Aggression:
59
Mentality:
82
Keeper Skills:
50
Team Work:
75
Injury Tolerance:
B
Condition/Fitness:
7
Weak Foot Accuracy:
5
Weak Foot Frequency:
4
Consistency:
6
Growth Type:
Standard
CARDS:
S09:
Covering
SPECIAL ABILITIES:
Covering
Attack / Defence Awareness Card: Defence Minded
INFO:
Henri Guérin is former French defender. He was mainly a right back but he also competed in athletics, in fact he was the champion of Bretagne in Long Jump with 6,85 meters and in 100 meters which he run in 11,1 seconds. As a footballer he was strong and determinate, physicaly well prepared with intelligent play and good vision but he was limited technically. Henri Guerin was seven years in the Breton homeland of his mother. At first he earned athletic merits rather than athlete than a football player, though he at La Tour d'Auvergne, a team from the Catholic Sports Movement FSGP in Rennes, both sports business. In the football season 1943/44, as competed in the French Division 1 regional teams instead of club teams. He played in the Rennes-Brittany or fédérale FPS then a few more months for Drapeau Fougeres, before he returned to Rennes at Stade Rennais University Club and was a professional. In 1948 first called into the senior team. In the six years at Rennes, but no to win titles, but at least it was enough there to be a 4th (1948/49) and a 5th Rank (1945/46) in the top division. In 1951 he moved to the capital club Stade Français, with which he returned a year later as second division champions in the Division 1, and 1953 AS Aix - again in the Division 2 -, where he met Jean Prouff, with whom he has in Rennes and in The national team had played together. From 1955 to 1961 worked as a coach Henri Guerin at UC Stade Rennes, who initially shuttled between first and second class (1956 and 1958 ascent, descent 1957). As of 1948 135 games and 4 goals (including 106/3, in Rennes), highest in the league, for previous years are no complete figures. In 1942 he played for the Sports Association of Catholic Auswahlelf FSGP international against Portugal, also in the Breton national team for the Coupe des Provinces de France. From October 1948 to June 1949 Henri Guerin was also three A appearances for the Equipe Tricolore appointed, following a 1:5 defeat to Spain, following the resignation of the highly regarded association Sélectionneur Guérin (see below) Gabriel Hanot , also said the defender, the end of his career in the blue shirt nation. After time as a player coach at Stade Rennes Henri Guerin was 1961, the job as coach at AS Saint-Étienne Erstdivisionär. In the championship, it was not good for the Greens, but in the cup the better: stay at the end of the season had the ASSE, but was able to enter after a 1-0 final against FC Nancy in the list of winners of the Coupe de France. Guerin saw these opposing "highlights of the season" but only from a distance, because he had been released in late March 1962 ahead of schedule. He was then in July 1962 appointed by the Football Federation (FFF), succeeding Albert Batteux to the post of national coach. After several successful appearances, like the 1-1 and 5-2 against England (qualification for Euro 1964) and their initial successes such as the 2-2 at the West German (1962) and the 0-0 draw with the Spanish national team (1963), this meant failure against Hungary in the European Championship quarter-finals suffered a first setback for Guerin. On the other hand, he introduced the very offensively oriented 4-2-4 system in the Bleus, which in the mid-1960s, with most of the internationally successful interspersed club and representative teams. In July 1964 initially under the double name Sélectionneur-entraineur - and in this role led Henri Guerin, the Equipe Tricolore after wins against Luxembourg, Norway and in particular the fear of opponents of Yugoslavia to the World Cup finals 1966th There, however, saw his team a fiasco: meant two goals and a lean dots (against Mexico) in three games last place in the preliminary round group. Until the 1986 World Cup was one of Breton as a member of the DTN also always at the French delegations to international matches. His subsequent retirement he lived in Saint-Coulomb, near Rennes, where he died at the age of 73. The power center of the Breton Football Association LBF in Ploufragan at Saint-Brieuc, now bears the name of Henri Guerin.