Name: Frane Matošić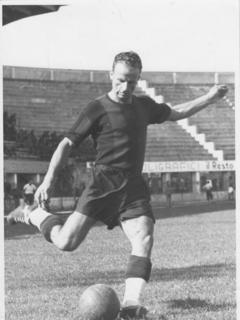 Country:
Croatia
Club:
HNK Hajduk Split
Position: *
CF
,
SS
Side:
RF/BS
Age:
28-34 years (25/11/1918)
Height:
179 cm
(app.)
Weight:
81 kg
(app.)
Attack:
93
Defence:
38
Balance:
85
Stamina:
79
Top Speed:
82
Acceleration:
81
Response:
90
Agility:
80
Dribble Accuracy:
81
Dribble Speed:
77
Short Pass Accuracy:
81
Short Pass Speed:
76
Long Pass Accuracy:
78
Long Pass Speed:
75
Shot Accuracy:
92
Shot Power:
89
Shot Technique:
88
Free Kick Accuracy:
86
Curling:
75
Header:
77
Jump:
78
Technique:
82
Aggression:
91
Mentality:
95
Keeper Skills:
50
Team Work:
83
Injury Tolerance:
A
Condition/Fitness:
8
Weak Foot Accuracy:
6
Weak Foot Frequency:
5
Consistency:
7
Growth Type:
Early LastingCARDS:
P
13 Long Ranger
S
03 1-on-1 Finish
S
04 PK Taker
SPECIAL ABILITIES:
Positioning - Scoring - Middle Shooting - 1 on 1 Scoring - Penalties
Attack / Defence Awareness Card:
Attack Minded
INFO:
Frane Matošić was former Croatian player, legendary Hajduk Split captain. Matošić was strong player with fighting spirit, great scorer with ferocious shot and one of the biggest captains in history of sport, alongside Obdulio Varela. Most of his goals came from precise long range shots, excellent free kicks and penalties. He could play as SS as well making some good passes. Although he score some very important goals with his head, he was a bit weak in aerial play. Frane was more important than a coach, he was always giving his maximum on the pitch, his orders were respected on the field and in locker room.
Frane Matošić is the best striker in Hajduk's history scoring 729 goals in 739 matches. Frane Matosic was born in Split on 25th November 1918 and he went though famous Luka Kaliterna's school of football, before making a debut for Hajduk aged 16. He debuted with a hat trick in Hajduk's 14-0 win over Slavija Sarajevo. His career lasted from 1935 to 1955 with a break between 1941 and 1945 due to WW2, and all of it apart for 2 years he spent in Hajduk. He also played one season in BSK Beograd while he was serving army in Beograd and one season in Bologna. Throughout his career he won 4 domestic championships with Hajduk: 1941, 1950, 1952 and 1954/55. He won silver medal on 1948 Olympic games with Yugoslavia. For Yugoslavian NT he played 16 games scoring 6 goals. He was the league's top scorer twice in 1946. and in 1948/49. After his football career he coached Hajduk and Yugoslav NT and later even went on to be Hajduk's president for a while.
But he's most well known for the authority he had among Hajduk players. The anecdotes of his authority are still remembered. One of the most famous ones was when the Communist Party of Yugoslavia wanted to move Hajduk to Beograd, make them into army club as a reward for Hajduk's contributions in anti fascist struggle(digression: whole Hajduk team went and joined the partisans when Ante Pavelic handed majority of Croatian coast including Split to Italy) and rename the club to Partizan Beograd. Nobody wanted to leave Split but it were the times when defying CPY could lead to you ending up dead. Hajduk's captain Frane Matosic stood up and said: "You go and make your Partizan in Beograd, Hajduk belongs to Split and to Dalmatia." There is an anecdote when hajduk were playing against Crvena Zvezda and they were up 4-0 and totally ripping the opposition apart when one more hajduk legend bernard vukas(who is considered the best hajduk player ever) dribbled past the goalie, but instead of scoring he went and placed the ball on the line besides the goal and sat on the ball. that drove frane mad and he went to vukas and started shouting on him cause he didn't score when one opposition player came along and said "come on frane you guys are 4-0 up lighten up". frane just looked at him and said "even if we were 440-0 up he should have scored". after the game in the dressing room frane gave vukas such a shouting vukas began to cry...and vukas and frane were best friends. Many players who played with Frane said that Frane was firm but fair. He wanted to win above everything else and he didn't tolerate any slacking from his team mates. Every Hajduk fan agrees that Frane Matošić is the most important player in the history of Hajduk even if there were better players than him like Bernard Vukas not a single one of them could come close to the importance Frane Matošić had.
Now I'll translate some stuff from my book:
Frane Matošić: " I dedicated my whole life to Hajduk, all my thoughts were about Hajduk and all my hopes. I loved Hajduk so much, always being happy when Hajduk won and sad when we lost. Hajduk was and remained a part of me, the part of my life. Later when I became a captain or coach or club official, I didn't let anything to ruin hajduk's reputation. I didn't tolerate young players being lazy, forgeting real value of wearing Hajduk shirt, not showing their maximum on pitch, playing on 100% no matter what the score is. I always asked my teammates to fight for every ball, respecting the oponents and doing their duties."
Here's an interview with Frane Matošić which took part in 1955/1956 when he was 37 years old and still playing, unofficially appearing in more than 1000 games and
scoring 1017 goals:
- What's your favourite goal?

- It's hard to decide, there were a lot of nice and important goals, but still think the one I scored against Partizan in 1948, from free kick out of 30-35 meters.

- Do you remember your first game for Hajduk?

- Yes, of course I was so happy to play alongside Kragić and Lemešić, despite the fact I was still a boy. We played against Slavia from Sarajevo and won 6-3 and I scored 3 goals in my debut. I played only home games in my first season because I was too weak physically.

- What's the ideal Hajduk formation until now (late 50's) in your opinion?

- The one from 1940: Krstulović, Kokeza, Jozo Matošić, Marušić, Rafaneli, Bakotić, Alujević, Frane Matošić, Kacijan, Sobotka and Ive Radovniković.

- What would be an ideal NT formation?

- Beara, Ivković, Jozo Matošić, Lehner, Jazbinšek, Čajkovski, Čikoš, Moša Marjanović, Hitrec, Vukas, Zečević.

- Mainly old generation of players?

- Yes, they were more complete. Football evaluated in physicall shape, more stength is needed nowadays (late 50's again
).

- What's going on with Hajduk this season, not a very good start?

- Our fans are not used to see negative results. In the last 10 years we were always on top 3-4 positions and that's a tradition. Our younger players must play better, we old veterans have been carrying on for a long time.

- What about Cup?

- I believe we can reach the final. The fact is non-Belgrade based clubs have much harder draw, also Crvena Zvezda plays quarterfinal,semifinal and final on their own stadium and that's not fair.
Conclusion - This is just a shorter part of interview, there is much more in the book. Frane Matošić died on 29/10/2007 aged 89. He will be remembered as one of the best ever players from Eastern Europe and the best possible example of sporting behaviour and team commitment. His brother Jozo also played for Hajduk and captained the team.
"Velike pamtit ćemo dane, slavne dane Matošića Frane"