Name: dr. György Sárosi

Nickname: "Gyurí"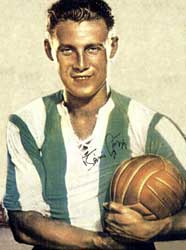 Country:
Hungary
Club: Ferencvárosi TC
Position: *
SS
,
CMF
,
AMF
,
CB
,
CF
Side: RF/BS
Age: 22-27 years (15/09/1912)
Height: * 183 cm
Weight: * 75 kg
Attack:
94
Defence:
67
Balance:
85
Stamina:
81
Top Speed:
85
Acceleration:
82
Response:
88
Agility:
82
Dribble Accuracy:
89
Dribble Speed:
81
Short Pass Accuracy:
86
Short Pass Speed:
75
Long Pass Accuracy:
83
Long Pass Speed:
76
Shot Accuracy:
90
Shot Power:
85
Shot Technique:
87
Free Kick Accuracy:
71
Curling:
69
Header:
90
Jump:
83
Technique:
88
Aggression:
85
Mentality:
82
Goalkeeper Skills:
50
Team Work:
84
Injury Tolerance:
A
Condition/Fitness:
6
Weak Foot Accuracy:
7
Weak Foot Frequency:
6
Consistency:
6
Growth Type:
Standard
CARDS:
P07
:
Mazing Run
P16
:
Dummy Runner
P17
:
Free Roaming
S01
:
Reaction
S04
:
PK Taker
S05
:
1 Touch Play
SPECIAL ABILITIES:
Dribbling - Reaction - Scoring - Penalties - 1 Touch Pass
Attack/Defence Awareness Card:
Balanced
INFO:
Sárosi began his career at Mugyetemi At. and moved in 1929 Ferencvárosi Torna Club, where he remained until the end of his active career 1948th During this period he won with his club five times the Hungarian championship, five times the Hungarian Cup and 1937 Mitropapokal. During this time he was three times Hungarian scorer. He played 383 league games for Ferencváros, in which it could reach 351 goals. In Mitropacup he stood with his team four times in the final, was twice top scorer with 49 goals and is the top scorer in 43 games in the history of this Event. As a national player, he played 1931-1943 a total of 62 internationals for Hungary, where he could reach 42 goals. He took part in the World Cup in 1934 and 1938. In 1934, he was used only once in the quarter-finals, scoring in the game against Austria to score by a penalty, which the defeat but could not prevent it. In 1938 he then played four games in which he met five times, including in the final, which was lost to Italy. Sárosi has in each of his five World Cup games, at least scored a goal. He was also top scorer in European Cup football national teams from 1933 to 1935 and in the aborted 1936-1938 competition. In September 1937 he scored in the game against Czechoslovakia seven goals. After his active career, he worked as a coach in Italy, where he served initially in 1948-1950 to AS Bari, before he took over after a brief stop at Lucchese 1951 Juventus Turin 1952, and the championship title. In 1953 he moved to Genoa for two seasons in 1893 and then served from 1955 to 1957 AS Roma. Other locations in Italy were the FC Bologna (1957-58), once the Roma in the 1958/59 season and Brescia Calcio (1960/61). After that, he was coach at FC Lugano in Switzerland. Sárosi was elected in 1999 as one of the 100 European player of the century and finished in the election of the century Hungarian footballer fifth.