STATS BY JEANMARC & EL MAGO 10
Name: Josef Stroh

Nickname: "Pepi"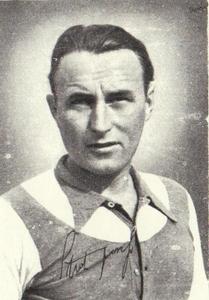 Country:
Austria
Club: FK Austria Wien
Position: *
SS
,
CF
,
AMF
Side: RF/BS
Age: 20-25 years (05/03/1913)
Height: 170 cm
Weight: 70 kg
Attack:
86
Defence:
37
Balance:
76
Stamina:
79
Top Speed:
85
Acceleration:
87
Response:
77
Agility:
89
Dribble Accuracy:
89
Dribble Speed:
84
Short Pass Accuracy:
83
Short Pass Speed:
77
Long Pass Accuracy:
82
Long Pass Speed:
75
Shot Accuracy:
83
Shot Power:
87
Shot Technique:
80
Free Kick Accuracy:
73
Curling:
68
Header:
79
Jump:
82
Technique:
86
Aggression:
83
Mentality:
79
Keeper Skills:
50
Team Work:
77
Injury Tolerance:
B
Condition/Fitness:
6
Weak Foot Accuracy:
6
Weak Foot Frequency:
5
Consistency:
6
Growth Type:
Standard Lasting
CARDS:
P05:
Trickster
P07:
Mazing Run
P13:
Long Ranger
S02:
Passer
SPECIAL ABILITIES:
Dribbling - Tactical Dribble - Middle Shooting - Passing
Attack / Defence Awareness Card: Attack Minded
INFO:
Josef Stroh is former Austrian player. He was inside right forward of great Austria Wien pre-war team. Stroh was extremly agile and tricky player with good passing range, flexibility, dribbling, but also had powerful shot and solid heading abilities. Very elegant player who knew sometimes to exaggerate with his dribblings. Pepi Straw began his football career in Floridsdorf and met regularly from 1930 to the FAC in the highest Austrian league use. When the straw was used as a means Floridsdorfer striker, a position which he had in 1933 after moving to Austria Vienna Prater in the favor of Matthias Sindelar give as legally binding. Straw won his first title with the same violet in his debut year with the victory in the Austrian Cup. He celebrated his greatest successes with Austria in Mitropapokal doubt, both the 1933 and 1936 against Inter Milan will be won in two dramatic series final against Sparta Prague could. Sun Pepi straw fought from 1935 regularly with the Admiraner Willy Hahnemann Leiberl to the right connector on the national team as he scorts among other things, against Hungary and Italy in the European Cup 1938th During the period of National Socialism Pepi straw came as Player of the existing "Sport Club Ostmark" too rich to four appearances in the German national team with which he took part in the World Cup 1938 in France. After the war came to the connector still further seven appearances for Austria, his career as a player, he finished by winning the championship in 1948/49. He coached SC Wr. Neustadt, FC Wien, SC Schwechat, Jönköpings Södra IF, Malmö FF, IFK Göteborg, SK Brann, Sandvikens IF and Sportklub. Pepi Stroh died in 1991.