Name: Mario Zatelli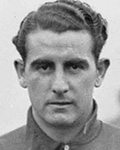 Country:
/
Algeria/France
Clubs: Olympique de Marseille (1935-1938), Racing Club de Paris (1938-1939)
Position: *
CF
Side: RF/BS
Age: 23-27 years (21/12/1912)
Height: 175 cm
Weight: 72 kg
Attack:
89
Defence:
32
Balance:
81
Stamina:
77
Top Speed:
81
Acceleration:
83
Response:
91
Agility:
80
Dribble Accuracy:
77
Dribble Speed:
75
Short Pass Accuracy:
77
Short Pass Speed:
68
Long Pass Accuracy:
71
Long Pass Speed:
69
Shot Accuracy:
85
Shot Power:
86
Shot Technique:
93
Free Kick Accuracy:
67
Curling:
71
Header:
78
Jump:
81
Technique:
80
Aggression:
91
Mentality:
73
Keeper Skills:
50
Team Work:
72
Injury Tolerance:
C
Condition/Fitness:
6
Weak Foot Accuracy:
6
Weak Foot Frequency:
5
Consistency:
5
Growth Type:
Early Peak
CARDS:
P15:
Goal Poacher
S05:
1-touch Play
SPECIAL ABILITIES:
Positioning - Scoring - Centre - Lines - 1 touch Pass
Attack / Defence Awareness Card: Attack Minded
INFO:
Mario Zatelli is former French striker of Algerian and Italian origins. He was centre forward, mainly a poacher type of player but he wasn't selfish and could make solid pass. His trademark were spectacular volley shots, he had good instinct and positioning in the box and also pretty strong shot. His career in the adult area began in 1929 in French-ruled North Africa from the U.S. Marocaine Casablanca,. Of 1932 and 1934 he won with this team three times. In 1935, he was on the advice of the club again and again players from the Maghreb proposing . pieds-noirs to Erstdivisionär Olympique Marseille, who since the 1920s was considered a "branch in Algeria". This transfer is employed for a short time even the French police: Olympique led the contract negotiations with Zatelli and Georges Janin, another French Algerians, by telegram, it club and the players used code names "Lisette", and "Jeanette", to avoid the competition found out about the intended commitment. Since the rain telegram traffic between Marseilles and North Africa was negotiated, among other things a long time on the amount of earnest money payments, the police suspected the preparation of a women's trade and made the appropriate investigations. Zatelli received for his signing of the contract including a signing bonus in the amount of 50,000 francs,. His starting salary was a month about 1,500 FF - roughly twice that of a workers' wages - plus performance bonuses. He also worked as a bank clerk With Marseille won. Zatelli under coach iron Hoffer 1937 champion and runner-up in 1938 and, after a 2-1 final victory against FC Metz, cup winners. In this final, he was in spite of a severe flu on the court. Zatelli placed himself in these years at Olympique always among the top ten league scorers: 1935/36 9th place with 15 goals, 1936/37 second (28) and 1937/38 Seventh (20). In 1938, moved Zatelli for a transfer fee of 380,000 FF - then league record - to Racing Paris, which he occupied at the end of season in third place in Division 1 and won his second Coupe de France, while he was injured contest only 14 of the 30-point games and also are not used in the Cup final. In the first season of "War Championships" (1939/40) denied racing at all, only nine league games, but was again champions. In this final was Zatelli not in the team and it is unknown if he still came to missions. After the outbreak of war and occupation of France, he returned to the south of the country, scoring his goals until 1943 for the Toulouse FC, to which met with Dupuis, Diagne and basement more international - and especially Jean Bastien, who already in Marseille and Paris Zatellis teammate had been. Again, he was successful and in 1941 champions in the unoccupied part of France, while he scored the goal of the day in the final against AS Saint-Etienne - then the TFC failed on the way to the finals but the winner of the occupied zone, the Girondins AS du Port. In 1943, the championship came in the Südstaffel the first division, both titles are in France, but only as unofficial. Directly afterwards, Marseille, Mario was one of the FPS Zatelli Fédérale Marseille-Provence, in the championship with 15 other regional selections (instead of club teams) in a nationwide round of 9 points Space occupied; Zatelli played only 14 of 30 games and scored twice. Over the season 1944/45 is only known that he attended a game at Olympique, why this was so and whether he took for another club is not to identify so far. From the summer of 1945 he was back in the regular attack from Olympique Marseille, although 1947/48 only a few encounters. This season the club finished in first place in Division 1 of the table; for Mario Zatelli was his second official national championship. Then he ended his professional career in which he had completed for OM 129 point games with 87 hits, his football boots, the next three years, tied with two amateur clubs as player-manager and acquired in 1950 the coaching diploma, his test subject was "The Game of the center-forward and whose volley ". International Zatelli had played in his time at USM Casablanca in Morocco, then still no official national team,. Among other things, he was the 4-1 win against France B team involved The World Cup 1938, he belonged to the French squad came, there would not be used because on the position of striker Nicolas Jean familiar - and after this tournament Désiré Koranyi. Thus, Mario Zatelli denied in January 1939, his only 'A' game for the Bleus 4-0. on Poland, where he managed a goal. Later he was very successful coach and sport director. Mario died in 2004.