Name: Josef Rudolf Hiden

Nickname: "Rudi"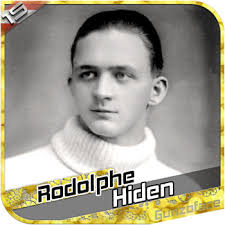 Country:
Austria/France
Club: Wiener AC (1927-1933), RC Paris (1933-1940)
Position: *

GK


Side: RF/BS
Age: 22-26 years (09/03/1909)

Height: 184 cm
Weight: 78 kg

Attack: 35
Defence: 93
Balance: 90
Stamina: 64
Top Speed: 70
Acceleration: 74
Response: 95
Agility: 76
Dribble Accuracy: 50
Dribble Speed: 54
Short Pass Accuracy: 56
Short Pass Speed: 57
Long Pass Accuracy: 58
Long Pass Speed: 61
Shot Accuracy: 45
Shot Power: 78
Shot Technique: 44
Free Kick Accuracy: 44
Curling: 46
Header: 44
Jump: 87
Technique: 52
Aggression: 61
Mentality: 95
Goalkeeper Skills: 95
Team Work: 78

Injury Tolerance: A
Condition: 7
Weak Foot Accuracy: 4
Weak Foot frequency: 4
Consistency: 7
Growth type: Early/Peak

CARDS:
S11 - Penalty Saver

SPECIAL ABILITIES: Penalty Stopper

Attack/Defence Awareness Card: Balanced
Quote:
The legendary keeper of Wunderteam, one of the best keepers in the world back than with Zamora and Planička, and on all time level certainly among 15-20 best keepers. He was noted primarly for his physical style, very robust, intrepid and extremely strong in diving and running out from the line, collecting the crosses and great in 1-on-1 situations. Rudi possessed excellent reflexes and was fantastic in catching the balls but also at fisting, very brave keeper and strong in the air since he had very good jump. He was pretty consistent in form, but outside of the pitch he had lot of troubles with his life style and bussiness/financial stuff. Hiden was regarded even as brutal keeper, all strikers were scared of him for his physical play but also spectacular parades, although sometimes he conceded goals from shots which were easy to save, mainly in his early years.