STATS BY JEANMARC & EL MAGO 10



Name: Ivan Bek - Yvan Beck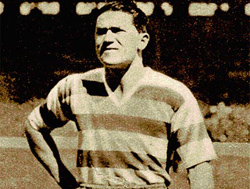 Country:
/
Serbia/France
Clubs: FC Sète 34 (1930-1935), AS Saint-Étienne (1935-1938)
Position: *
SS
,
CF
,
AMF
Side: RF/BS
Age: 21-29 years (29/10/1909)
Height: 180 cm
Weight: 82 kg
Attack:
90
Defence:
37
Balance:
83
Stamina:
78
Top Speed:
75
Acceleration:
76
Response:
82
Agility:
73
Dribble Accuracy:
88
Dribble Speed:
75
Short Pass Accuracy:
90
Short Pass Speed:
82
Long Pass Accuracy:
88
Long Pass Speed:
78
Shot Accuracy:
85
Shot Power:
86
Shot Technique:
83
Free Kick Accuracy:
72
Curling:
70
Header:
77
Jump:
76
Technique:
90
Aggression:
84
Mentality:
76
Goalkeeper Skills:
50
Team Work:
82
Injury Tolerance:
B
Condition/Fitness:
6
Weak Foot Accuracy:
5
Weak Foot Frequency:
5
Consistency:
5
Growth type:
Early Peak

CARDS:
P03:
Classic No.10
P05:
Trickster
P20:
Talisman
S02:
Passer
S05:
1-touch play
SPECIAL ABILITIES:
Tactical Dribble - Playmaking - Passing - 1 touch Pass
Attack/Defence Awareness Card: Attack Minded
INFO:
One of the best players in France and whole Europe in 30's. Beck was one of the star players in France during the 30s. He played mainly as inside right. His brilliant individual technique amazed the crowds, who were delighted by his game. He was the commander of the attacking moves, an all-round player, that, despite never being a too speedy player, had an impressive sense of positioning. He had all the caracteristics of a good playmaker: intelligence, fine technique and good reading of the game. He was a smart passer of the ball, able equally in the short and long passes. His penetrating passes through the opposite defense were particularly famous. He had also a thunderous and precise shot. Yvan Beck was born October 26, 1909 in Belgrade (Yugoslavia). At 16, he began a career that looks brilliant with no less than 51 goals in 50 matches. Naturally, the national team made ​​eyes at him and his debut at 17 and a half, he made a remarkable performance against Bulgaria 2-0 in Sofia May 15, 1927. In 1928, Beck landed FC Sète, which always manages to recruit good players thanks to its president, Georges Bayrou, always on the lookout when it comes to enjoying excellent opportunities. He participated in the first World Cup football in Uruguay in 1930 where it allows Yugoslavia to climb up to the semi-finals thanks to goals against Brazil (the victory) and a brace against Bolivia. In France, he splashes his class championship and the cup in the same year he won in 1934. During the final against Marseille, he had subjugated the President of the Republic, Doumergue, which no longer swore by him. That day, he sent two assists to Lukaes who had not requested to convert these caviar. Naturalized French, it is also selected to play with Team France who rejoices to have such a gem in its ranks. Pierre Guichard and Pierre Marey absolutely want in their team and in 1935, he accepted the proposal Etienne, all attracted by the challenge fees that were proposéw him especially as Sete, who lived beyond his means, was a urgent need of cash. A Saint -Etienne, Beck performs feats, scoring an incredible 102 goals in four seasons. It is one of the great architects of the accession of the Greens in the first division in the 1937-38 season and promising fourth place obtained by ASSE in the next season. In addition to its phenomenal performance, it will mark the club's history by becoming the first player wearing the green tunic to be selected for France. While playing in the second division, he continues to draw attention to him and he is summoned to the France - Switzerland match on 10 October 1937. This is the last of his five capes, it plays a meeting the position of inter in the position of runner. The war will put an end to his adventure in the Forez. He signed in Nimes but his most remarkable battle is the one he led in the Resistance in which it engages body and soul.These are the last acts of bravery as the post-war is terrible for that boy who burned the candle at both ends. He falls into misery and collection must be organized in Sète in 1951 by Georges Bayrou, who did not forget to enable it to survive. He died of a heart attack June 2, 1963. Was buried in Sète 15 June 1963 in a city that wants to remind his fond memories as it regularly organizes a gathering on his grave.