Stats by Levin
Name:

Vivian John Woodward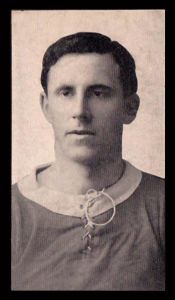 Country:
England
Club: Tottenham Hotspur
Position: *
CF
,
SS
Side: RF/BS
Age: 22-30 years (03/06/1879)
Height: 189 cm
Weight: 81 kg
Attack:
91
Defence:
35
Balance:
83
Stamina:
75
Top Speed:
83
Acceleration:
79
Response:
84
Agility:
75
Dribble Accuracy:
87
Dribble Speed:
75
Short Pass Accuracy:
86
Short Pass Speed:
73
Long Pass Accuracy:
82
Long Pass Speed:
71
Shot Accuracy:
86
Shot Power:
84
Shot Technique:
85
Free Kick Accuracy:
69
Curling:
66
Header:
91
Jump:
80
Technique:
86
Aggression:
87
Mentality:
76
Goalkeeper Skills:
50
Team Work:
79
Injury Tolerance:
B
Condition/Fitness:
6
Weak Foot Accuracy:
7
Weak Foot Frequency:
6
Consistency:
6
Growth Type:
Standard
CARDS:
P07
:
Mazing Run
SPECIAL ABILITIES:
Dribbling - Positioning - Scoring
Attack/Defence Awareness Card:
Attack Minded
INFO:
One of the greatest amateur players in the history of the game, Vivian Woodward was an outstanding all around sportsman. In his football career he became a prolific centre forward throughout the early years of the 20th century, but might have been lost to the game had his father, who wanted him to concentrate on cricket and tennis, had his way.
Woodward was born into a wealthy family in the Kennington area of London on 3 June 1879, and spent a good deal of his youth in the Essex town of Clacton, where the family also had a home. He followed in his father's footsteps by training as an architect, and even though his father eventually allowed him to play football as a teenager he resisted all offers to turn professional throughout his career. Although he was not the biggest or strongest of players, his skill on the ball, pace and accurate passing enabled him to play not only at centre forward but also at either inside-right or inside-left. He was also recognised as one of the finest headers of the ball of his era.
His career began with non-league side Clacton Town in 1895, and he remained there until shortly after the turn of the century when he attracted the attentions of Southern League side Tottenham Hostpur. Tottenham finished as runners-up in the Southern League in 1902, and although his work commitments often led to him missing games, Woodward's form for them saw him begin to be noticed by the England selectors. His international debut came in the Home International match against Ireland at Wolverhampton in 1903, when he scored twice in a 4-0 England win. Although success was elusive at club level, with another second place finish the best that Tottenham could manage, Woodward remained a regular for both the England senior team and the England Amateurs.
By 1908, he was the captain of England and formed part of the Great Britain squad which took part in the Olympic Games on home soil in London. Woodward scored twice in a 12-1 win over Sweden in the first game, and once more in a 2-0 win over Denmark in the final as Britain claimed the gold medals. That same summer, Tottenham were elected to the Second Division of the Football League allowing him to play League football for the first time, and he scored Tottenham's first goal in the competition in their opening game against Wolverhampton Wanderers.
Seventeen more league goals followed in that first season and Woodward played a critical role in Tottenham's second place finish, which earned the club promotion to the First Division behind Bolton Wanderers. Following that success, he captained England on a tour of central Europe in the summer of 1909, scoring six goals in two games against Hungary and three more against Austria. After that tour, at one of the highest points of his career he astonishingly announced that he would be retiring from League football to concentrate on his work as an architect. This retirement would not last long, however, and in the autumn of 1909 he made the move across London to play for Chelsea.
Woodward's arrival at Chelsea meant that at the age of 30, he would be playing First Division football for the first time. However, his first season with the club was not a success and with one game to go, Chelsea were in a relegation position, one point behind Bristol City and his former team Tottenham. Coincidentally, their final opponents would be Tottenham, and although victory would have kept Chelsea in the First Division they suffered a 2-1 defeat. In his first season of top-flight football, Woodward's new club had been relegated by his old club.
He stuck with the club despite relegation, and after a near miss in 1911 when they finished third, Chelsea returned to the First Division in 1912 when they were promoted as Second Division runners-up behind Derby County. During that time in the Second Division, Woodward had claimed the all-time goalscoring record for the senior England team when his two goals against Wales took him on to 29, one more than legendary Derby striker Steve Bloomer. That would be his last match for the senior national team, but the record of 29 goals stood until 1958 when it was broken by Tom Finney. Woodward continued to play for the England Amateur team, and appeared for Great Britain in a second Olympic Games in Stockholm in 1912, where he won a second gold medal with another final victory over Denmark.
His final appearance for the England Amateur team came in 1914, when he scored in a 5-1 win over Sweden in Stockholm. Finishing with a remarkable 44 goals in 30 games for the Amateur side, when combined with his record for the senior team he scored 73 goals in just 53 international appearances. It should be remembered that although the Amateur games were not official England internationals, most of them were considered to be official games by the opposing teams, and from this view Woodward could be considered to have scored more goals for England than any other player. Even today, his 29 senior England goals still place him in the top ten on the all time list.
Remaining with Chelsea with limited success until the outbreak of the First World War, Woodward joined up immediately, joining the Middlesex Regiment. When Chelsea reached the FA Cup final at the end of the 1914-15 season, he was offered leave in order to enable him to play in the final. However, he had not been a regular member of the team which had reached the final and turned down the offer on the grounds that the players who had reached the final should have the chance to play in it. In 1916 Woodward was injured in the trenches of the Western Front. He recovered and became a physical training instructor in the army, still playing the occasional game of football. After the war he retired from competitive football but still turned out for the occasional match, and also served for several years as a director at Chelsea.
Away from football, he retired from his career as an architect and became a farmer. Following the Second World War, in which he served as an Air Raid Warden, Woodward's health declined and he spent his final years living in a nursing home, until his death in 1954 at the age of 74. He remains renowned both as one of the finest gentlement of football's amateur era and as one of the finest players of the pre-First World War years.