Stats by JeanMarc & Gurkenjoe93
Name: Asbjørn Halvorsen

Nickname: "Assi"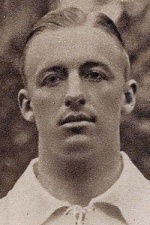 Country:
Norway
Club:
H
amburger
S
port-
V
erein
Position: *
DMF
,
CMF
,
CB
Side: RF/BS
Age: 23-31 years (03/12/1898)
Height: 168 cm
Weight: 71 kg
Attack:
70
Defence:
84
Balance:
80
Stamina:
87
Top Speed:
83
Acceleration:
81
Response:
82
Agility:
80
Dribble Accuracy:
81
Dribble Speed:
75
Short Pass Accuracy:
84
Short Pass Speed:
77
Long Pass Accuracy:
83
Long Pass Speed:
79
Shot Accuracy:
70
Shot Power:
81
Shot Technique:
70
Free Kick Accuracy:
66
Curling:
67
Header:
73
Jump:
80
Technique:
83
Aggression:
71
Mentality:
90
Keeper Skills:
50
Team Work:
86
Injury Tolerance:
B
Condition/Fitness:
6
Weak Foot Accuracy:
5
Weak Foot Frequency:
5
Consistency:
6
Growth Type:
Early/Lasting

CARDS:
P02
- Anchor Man
S09
- Covering
S10
- DF Leader
SPECIAL ABILITIES:
Centre – 1-Touch Pass - D Line Control - Covering
Attack/Defence Awareness Card: Defensive minded
INFO:
Legendary Norwegian player. Halvorsen was excellent centre wing half and natural born leader. He was rather short but stocky and tenacious with excellent sense of positioning and organization of defence, skillful in marking and also passing, run a lot to fill the gaps in the back line but also to take part in attacking moves where he showed great understanding with Otto Harder. Asbjørn " Assi " Halvorsen began with the football game in 1909 in Sarpsborg FK, the leading club in his hometown. Even as a teenager he was in the first Team and was used with 18 already captain. In 1917 he won the Norwegian Cup victory in his first ever title . In the final SK Brann Bergen was defeated 4-1, Halvorsen, who acted as a center-half, it contributed a hit on. Halvorsen 1918 debuted in the Norwegian national team in a game against Sweden, which was however lost with 0:2. In 1920 he took part with Norway in the Olympic Games , where he defeated a British amateur choice 3-1 with the Norwegian team. A year later, had Halvorsen , the employee was a ship brokerage firm pull for professional reasons to Hamburg. There he joined at opposed first plans SV Hamburg Altona instead of 93 . In 1922 , in his first season , he was with the HSV North German champion and reached after victories over Titania Stettin (5-0 ) and FC Wacker München ( 4-0) for the first time in club history the final of the German Cup . After two draws (2-2 and 1-1 ) against 1 FC Nuremberg and a foul game was aborted by the referee was awarded the hamburgers at the green table of the titles on the HSV but refrained . 1923 should Halvorsen then but win his first major German title . Once again he North German champion with HSV were beaten in the final round of the German Cup Guts courage Dresden ( 2-0) , VfB Königsberg (3:2) and in the final Union Oberschoeneweide (3-0). 1923, after only 19 games, Halvorsen retired from the national team. Reason was that by his stay in Hamburg it became increasingly difficult for him, next to his profession (he was now owner of a ship brokerage and freight forwarding company ) and the association football still to play for the Norwegian national team in faraway Oslo. His last match he played at Hamburg in Victoria Square, where to be his teammate and direct opponent Tull Harder scored the only goal of the day. In Germany it went for Halvorsen with the HSV no longer quite so successfully. After 1924 failed to Nuremberg in the final of the German Cup , they won in 1925 , the North German Championship. It was only back in 1928 could be the next big success be achieved. After he was in the dress of the HSV North German champions for the fifth time, it was unstoppable in the final. It rolled over succession to the FC Schalke 04 (4-2 ), VfB Königsberg ( 4-0), Bayern Munich (8:2 ), and finally in the final in front of 42,000 spectators in Altona Hertha BSC ( 5-2 ). Until 1933, he won with the HSV three other North German title before he left a few months after the Nazi seizure of power Germany and returned to Norway. For Hamburg, he played a total of 28 times in finals of the German championship , was one of the most popular players of the HSV and one of the first foreign stars in German football. In Norway, he first took a coach position at his old club Sarpsborg FK, in February 1935 he was additionally appointed by the Norwegian Football Federation NFF. Three months later, he was team leader of the Norwegian selection and therefore returned back to Germany in 1936 to participate with Norway in the Olympic Games. After the second-round match against Turkey could be won easily, they met in the quarterfinals to the selection of Germany. By a 2-0 victory they threw the hosts out of the tournament and reached at the end by a 3-2 over Poland the bronze medal, which is considered today as the biggest success of a Norwegian team. He celebrated a second success with the Norwegian team with the participation in the World Cup 1938 in France. There you failed in the first round after a big game with 1:2 after extra time at the eventual champions Italy. After 39 games on the bench , the declaration of war by Germany to Norway also ended this career in 1940. 1940 marched the German Wehrmacht in Norway and remained until the war ended in 1945 as an occupying power. Halvorsen practiced in the resistance against the German military government. He rejected the reform and integration of the Norwegian Sports and refused 1940 Cup Final when even Reich Josef Terboven and other Nazis access to the VIP box, which was reserved for the royal family, which was at that time already in exile. In August 1942, Halvorsen was arrested by the Gestapo and initially locked in a prison, but soon moved to the concentration camp Grini in Oslo. In autumn 1943 Halvorsen was transferred to the concentration camp Natzweiler, from where he initially 5 to the satellite camp Neckarelz and on January 1945 was transferred to the concentration camp Vaihingen, this, too, a satellite camp of Natzweiler, which served at the time as sick-bed. Here he worked as a district manager, then used as a station clerk. On 5 April, the Norwegian prisoners were evacuated by the Swedish Red Cross to Neuengamme. It says in a report on Halvorsen: The man who is in the hospital of the concentration camp in the spring of 1945, more dead than alive. He does not weigh more than 40 kg , suffering from typhoid fever, pneumonia, rheumatism, fever, and - of course malnutrition. The camp moved him to death row. This report are, however, the fact Halvorsen were always privileged during his imprisonment, and the descriptions of fellow inmate Odd Nansen opposite, who described in his diary from Neuengamme, Halvorsen was still strong as a bear, but taken away by the typhus, he had just behind. After a brief treatment in Sweden Halvorsen returned in June 1945 returned to Norway and was there, albeit in poor health, was appointed NFF General Secretary. Halvorsen sat in his service, especially for the creation of a national league system. In 1951 he married his wife, Sigrid; marriage remained childless. In January 1955 he was found dead in a hotel in Narvik during a mission for the NFF. He was only 56 years old and probably died on the long-term consequences of his concentration camp imprisonment .