South

ampton

F.

C.
1975-1976
Southampton F.C. 1975-1976 FA CUP WINNER:
Back Row: D.Taylor (Physio), Steele, Blyth, Osgood, Andruszewski and Clunie (Trainer).
Middle Row: Williams, Gilchrist, Middletorn, I.Turner, Channon and Holmes.
Front Row: Fisher, McCalliog, Rodrigues, McMenemy (Manager), Stokes, Peach and Earles.
COACH:
Lawrie MCMENEMY
GOALKEEPERS:
1
Ian TURNER
Steve MIDDLETON
DEFENDERS:
5
Mel BLYTH
6
Jim STEELE
2
Peter RODRIGUES
(c)
3
David PEACH
Malcolm WALDRON
Paul BENNETT
Manny ANDRUSZEWSKI
MIDFIELDERS:
4
Nick HOLMES
10
Jim McCALLIOG
7
Paul GILCHRIST
12
Hugh FISHER
FORWARDS:
11
Bobby STOKES
8
Mick CHANNON
9
Peter OSGOOD
Pat EARLES
4-4-2 FORMATIONS:
Manchester United Vs Southampton 0:1 - FA Cup final (01/05/1976)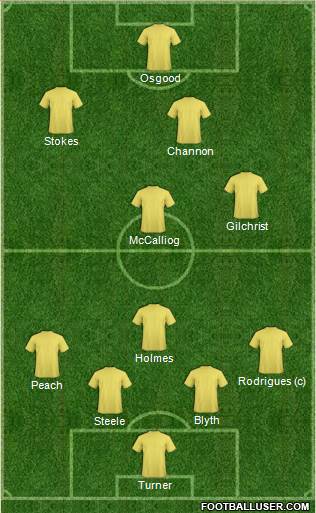 GK

TURNER


CB

BLYTH


CB

STEELE


RB

RODRIGUES ©


LB

PEACH


DMF

HOLMES


CMF/AMF

MCCALLIOG


RMF/CMF

GILCHRIST


LWF/SS

STOKES


CF/SS

CHANNON


CF

OSGOOD
Captain: Peter Rodrigues
Short Free Kick: David Peach/Jim McCalliogg/Mick Channon
Long Free Kick: David Peach/Mick Channon
Free Kick 2: /
Left Corner: David Peach
Right Corner: Jim McCalliogg
Penalty: David Peach/Mick Channon
Team Strategy
★
Centre Attack
★
Change Sides: Mick Channon/Peter Osgood
★
Long Passing
★
Counter Attack
HONOURS:
English Second Division: 6th
FA Cup: Winner
League Cup: 2nd round
HOME & AWAY KITS:
INFO:
Under Lawrie McMenemy's management, Saints started to rebuild in the Second Division, capturing players such as Peter Osgood, Jim McCalliog, Jim Steele and Peter Rodrigues (captain). In 1976, McMenemy guided Southampton, then in the 2nd Division, to an FA Cup Final victory over Manchester United at Wembley. It was widely predicted before the game that United would easily win (one pundit said the score would go into double figures). However Southampton, who were in the Second Division at the time (the current Championship) and had a much older team, put up a stern challenge against United. The only goal of the game was scored by Bobby Stokes with just seven minutes to go, and captain Peter Rodrigues received the FA Cup from the Queen (the last to do so!). They were the second club in four seasons to win the FA Cup from outside the First Division of English football after Sunderland in 1973 and only one more side from outside the top flight (West Ham United in 1980) has won the trophy. These are the only instances in the post-Second World War era when the trophy has been won by a team outside the top division.
The following season, they played in Europe again in the Cup Winners' Cup, reaching quarter finals, beating Marseille and Carrick on the way, before eventually losing losing to the finalist, Anderlecht, even though they won the 2nd leg!