Football Club
de
Nantes
All
Stars
COACHES:
José ARRIBAS
Jean-Claude SUAUDEAU
GOALKEEPERS:
Jean-Paul BERTRAND-DEMANES
Mickaël LANDREAU
DEFENDERS:
Patrice RIO
Robert BUDZYNSKI
Marcel DESAILLY
Hugo BARGAS
William AYACHE
Maxime BOSSIS
Stanislas STAHO
Thierry TUSSEAU
MIDFIELDERS:
Oscar MULLER
Jacky SIMON
Reynald PEDROS
Jorge BURRUCHAGA
Bruno BARONCHELLI
Henri MICHEL
Christian KAREMBEU
Loïc AMISSE
ATTACKERS:
Bernard BLANCHET
Vahid HALILHODŽIĆ
Japhet N'DORAM
Philippe GONDET
Éric PÉCOUT
****************************************************
RESERVES:
GOALKEEPERS:
Daniel EON

David MARRAUD




DEFENDERS:




Raynald DENOUEIX

Serge LE DIZET

Sylvain ARMAND

Gilbert LE CHENADEC

Jean-Jacques EYDELIE

Claude ROBIN

Nicolas GILLET

Gerrit VREKEN

Gabriel DE MICHÉLE

Néstor FABBRI
Jean-Claude OSMAN

Michel BIBARD
MIDFIELDERS:
Gilles RAMPILLON

Jérémy TOULALAN

Ramon MULLER
Jean-Michel FERRI

Frédéric DA ROCHA

/
Omar SAHNOUN
Didier DESCHAMPS
Claude MAKÉLÉLÉ
Jean-Claude SUAUDEAU

Nicolas SAVINAUD

Éric CARRIÉRE




ATTACKERS:




Nicolas QUÉDEC

Robert GADOCHA

Patrice LOKO
Jan VAN GEEN

Emiliano SALA

Erich MAAS

Franky VERCAUTEREN
Viorel MOLDOVAN

Olivier MONTERRUBIO

José TOURÉ
Ángel MARCOS
THE BEST EVER XI (by gurkenjoe93)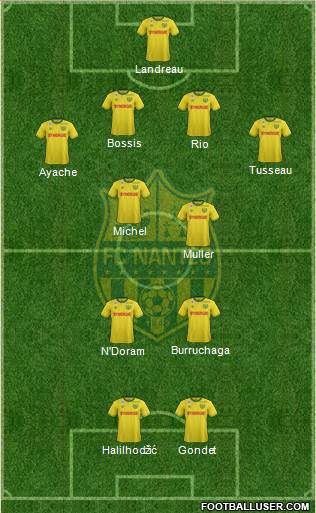 GK
LANDREAU
SWP
BOSSIS
CB
RIO
RB
AYACHE
LB
TUSSEAU
DMF
MICHEL ©
CMF
MULLER
AMF
N'DORAM
AMF
BURRUCHAGA
CF
HALILHODŽIĆ
CF
GONDET
Captain: Henri Michel | Mickaël Landreau
Short Free Kick: Vahid Halilhodžić | Henri Michel
Long Free Kick: Henri Michel | Oscar Muller
Left Corner: Henri Michel | Oscar Muller
Right Corner: Henri Michel | Oscar Muller
Penalty: Vahid Halilhodžić | Henri Michel | Philippe Gondet
ADDITIONAL INFO AND IMAGES: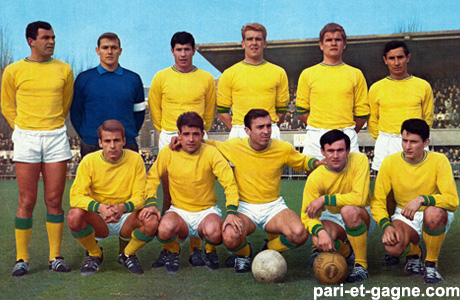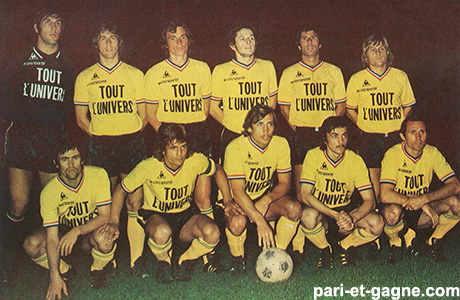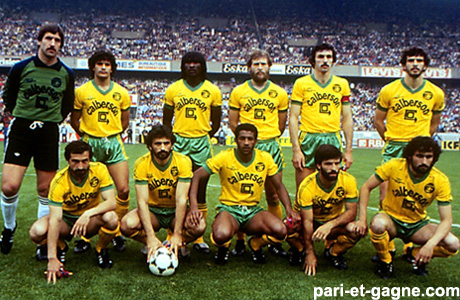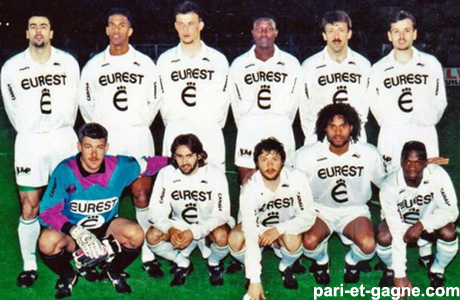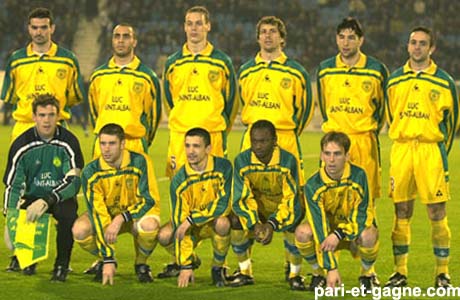 n 1943, Nantes had five football clubs (Saint-Pierre, Stade Nantais U.C., A.C. Batignolles, A.S.O. Nantaise and Mellinet). However, Mellinet's manager, Marcel Saupin, realised that Nantes could have a better chance of sporting success if they merged: he declared "Today we are a small team, but we will become a great team if we work together one day". Following the club's first season which was average, Saupin went to Paris along with other club members where many young footballers were emigrating into the provinces in order to avoid having to carry out forced labour in Germany due to the Service du travail obligatoire. Here he found the club a Professional trainer as well as several quality players, after which Saupin became the Club chairman in 1944. Following the group's success, it's healthy finances and by the fact that Saupin was a personal friend of Gabriel Hanot, FC Nantes became part of the Groupment of Authorised Clubs, and subsequently a professional team when the war ended in July 1945. The first match FC Nantes played as a professional team took place at the Stade Olympique de Colombes against CA Paris, where FC Nantes triumphed 2-0. The first home match was a defeat of the same score against AS Troyes (2600 supporters attended, making the club a total of 118,045 old francs). The club finished fifth at the end of this first season following which the club's manager Aimé Nuic left the club following a dispute, and was succeeded by Antoine Raab who took over as a manager-player. After winning 16 consecutive matches, Nantes bowed down 9-0 to Sochaux, the top team of the moment. In 1963 the town council decided to give substantial subsidies to the club to give it a leg-up to climb into the next division. On the first of June 1963, the club won its place in the first division against Sochaux. Marcel Saupin died on the 10th of June and would never see the club he created amongst the elite. FC Nantes went on to win the 1964-65 and 1965-66 championships with a well polished game, partly thanks to José Arribas, a fan of a more offensive game strategy who was making his first contibutions to that which would become known as the jeu à la nantaise. It was during this period that the famous jeu à la nantaise, made up of well-oiled and offensive tactics, makes its appearance. In the summer of 1976, manager José Arribas leaves his role to Jean Vincent at the top of the French Division 1. The former player from the Stade de Reims team would remain the team's manager until 1982 when Jean-Claude Suaudeau, another fan of the jeu à la nantaise and who was also coached by José Arribas in the 1960s, replaced him.
Apart from the titles of French Champion which the Football Club de Nantes held in 1973, 1977, 1980 and 1983, the canaries won their first Coupe de France in 1979 against AJ Auxerre with 4 goals to 1 after extra time, and after a hat trick from Eric Pécout. Then in June 1983 the Nantes team battled out a Coupe de France final against Paris Saint-Germain, with a memorable goal from José Touré (nicknamed "the Brazilian" after this glorious feat), but which nevertheless didn't stop Paris Saint-Germain from winning the game 3 goals to 2, preventing FC Nantes from obtaining the double French Cup-French Championship title. FC Nantes really spread its wings throughout the 1982-83 season, and even it's most dangerous rival (Girondins de Bordeaux) ceded underneath the offensive pressure exerted by the club, and left the game at Nantes home Marcel Saupin stadium defeated at 4-0, partly thanks to a well-oiled match and the golden touch of the Yugoslavian player Vahid Halilhodžić, responsible for a total of 27 goals, and who finished best striker of the championship. After been at the top of the table for several years, then coming second in the 1984-5 championship (behind Bordeaux) and in 1985-6 (behind Paris Saint-Germain), FC Nantes went through a much more difficult period. In 1988, Jean-Claude Suaudeau's place at the head of the first team was taken over by Miroslav Blazevic. His results were not, however, in line with the clubs ambitions – Nantes coming 7th in 1988-9 and 1989-90 and gaining a pitiful 15th place in 1991, having no title to add to their record during these three seasons. In July 1991 the club re-instated Jean-Claude Suaudeau, and in July 1992, the after spending a fortnight in the second division due to an administrative decision by the DNGG (French Football's financial regulator), FC Nantes is renamed FC Nantes Atlantique, and is able to take it's place in the 1st Division back. Supporters at an away match Supporters at an away match. In 1992, the jeu à la nantaise made its comeback. The club subsequently made the finals of the French Championship in 1992-3; semi-finals of the French Cup in 1993-4; won the 1994-5 Championship and was Semi finalist in the Champion's league of 1995-6. This period saw the development of a host of players such as Japhet N'Doram, Patrice Loko, Reynald Pedros, Nicolas Ouédec, Claude Makélélé, and Christian Karembeu. Between 1995 and 1997 the club underwent financial difficulties and the best players left one after the other with mixed futures: Loko, Ouedec and Pedros quickly forgotten and dropped from the Equipe de France shortly after Euro 96; Japhet N'Doram fought against persistant injuries at AS Monaco; whilst Karembeu and Makelele faired better, managing to succeed abroad (notably at Real Madrid) and both become active members of the French team. Tired of the transfers of his best players at the end of each season, Jean-Claude Suaudeau quit the footballing world in 1996 and handed over the ropes to Raynald Denoueix, previously the second team's coach. After a catastrophic beginning to the season 1996-7, the team finished 3 place in the championship after playing 30 games without a single defeat. They were deprived of qualification in the champion's league by AS Monaco (with a score of 2-1). After this, FC Nantes Atlantique stagnated in the middle of the table for a few seasons but finally found a buyer after becoming champion once more in 2001: It was bought out by Socpresse (a media group) who designated a chairman who was completely oblivious to the footballing world: Jean-Luc Gripond.