Olympique
Lyonnais
All
Stars
COACH:
Aimé MIGNOT
GOALKEEPERS:
Marcel AUBOUR
Grégory COUPET
DEFENDERS:
Jean BAEZA
Cláudio CAÇAPA
André LEROND
Raymond DOMENECH
CRIS
Aimé MIGNOT
Ljubomir MIHAJLOVIĆ
Jean DJORKAEFF
MIDFIELDERS:
Daniel RAVIER
/
Ángel RAMBERT
Serge CHIESA
JUNINHO Pernambucano
Lucien DEGEORGES
Sidney GOVOU
Laurent FOURNIER
Rémy GARDE
ATTACKERS:
Ernest SCHULTZ
Sonny ANDERSON
Nestor COMBIN
Fleury DI NALLO
Bernard LACOMBE
***********************************************************
RESERVES:
GOALKEEPERS:
Gilles ROUSSET

Yves CHAUVEAU




DEFENDERS:




François CLERC

MARCELO

Patrick MÜLLER
Éric ABIDAL
Jacek BĄK

Jean-François JODAR

Bernard LHOMME

Bruno N'GOTTY

Anthony RÉVEILLÈRE

EDMILSON
Jéremie BRÉCHET




MIDFIELDERS:




Marcel LEBORGNE

Florent MALOUDA

Jérémy TOULALAN

Kim KALLSTRÖM

Vikash DHORASOO

Franck GAVA

Hatem BEN ARFA

Mahamadou DIARRA

Jean TIGANA
Camille NINEL




ATTACKERS:




Yves MARIOT

Simo NIKOLIĆ

Abdelhamid KERMALI

Alain CAVEGLIA
André GUY

Jacques FATTON
Lucien COSSOU

Karim BENZEMA
FRED

Sylvain WILTORD
THE BEST EVER XI (by gurkenjoe93)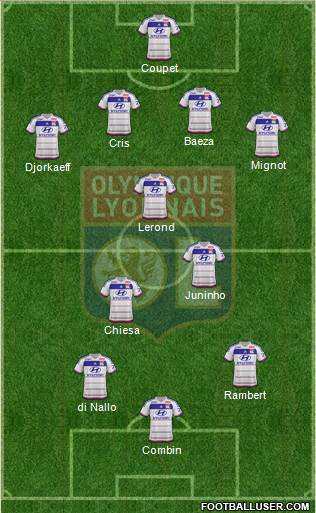 GK
COUPET
CB
CRIS
CB
BAEZA
RB
DJORKAEFF
LB
MIGNOT
DMF
LEROND
CMF
JUNINHO
AMF
CHIESA ©
SS
DI NALLO
LWF
RAMBERT
CF
COMBIN
Captain: Fleury di Nallo | Aimé Mignot | Juninho Pernambucano | André Lerond
Short Free Kick: Juninho Pernambucano | Serge Chiesa
Long Free Kick: Juninho Pernambucano | Serge Chiesa
Left Corner: Juninho Pernambucano | Serge Chiesa
Right Corner: Juninho Pernambucano | Serge Chiesa
Penalty: Juninho Pernambucano | Jean Djorkaeff
ADDITIONAL INFO AND IMAGES:
OL came into existence after a disagreement between the rugby and football sections of the multisports club Lyon Olympique, which has existed since 1899. The football section split from the rest of the club and chose a new name: Olympique Lyonnais. This is why supporters of OL claim that their club was founded in 1899.
Before 1966, the club enjoyed some success; after being eclipsed by FC Lyon in 1908 and 1909, they won the French Championship in 1910. By 1920, they had moved into the Stade de Gerland, a stadium seven years in the making designed by Tony Garnier, a local architect. Then called Lyon Olympique Universitaire, the club rejoined the professional ranks in 1942, and won the southern pool of the final wartime championship by two points from Bordeaux. The national final pitted them against Rouen, who triumphed 4-0. These successes propelled them in to Division 1 at the start of the 1945/6 season, but headed by Félix Louot the club plummeted back into to Division 2 by 1946. The club would have to wait a further ten years until they won Ligue 2; their first established trophy, in 1951. However, Lyon were soon relegated back, after spending a season in the Ligue 1. A fresh new, rebuild team was formed by Julien Darui and in 1954, OL had gained promotion for the second time in four years. OL enjoyed triumph after triumph in the 60's and the 70's where they won three Coupes de France, and a Trophee Champions; taking note that five managers had joined and left OL at that specific era. However, the club had suffered a long period of drought and were relegated in 1983. The team underachieved and failed to retain any domestic trophy.
Jean-Michel Aulas took control of the club in 1987 and invested in the club with the objective of European qualification and become an established Ligue 1 side, within fifteen years. Under coaches Denis Papas and Marcel Le Borgne, the club rose back into the top flight, but each departed at the end of the season.
Raymond Domenech who was born in Lyon, was appointed as their successor and achieved promotion to Ligue 1, after a scoreless draw against Alès. Lyon were crowned champions of Ligue 2 for the third time.Olympique Lyonnais first top-flight season under Raymond Domenech saw them finish eight in the league, and were safe from relegation. Domenech managed a fifth place finish in his second season, which meant an UEFA Cup spot. European qualification was achieved after a mere two years at the top level (only four years of Aulas' control). Domenech had decided to leave after the end of the 1992/93 Ligue 1 season, after being selected as the new French U21 coach. Aulas' first choice was former French international, Jean Tigana. He was part of the celebrated 'The Magic Diamond', along with Michel Platini, Luis Fernandez and Alain Giresse. Tigana had enhanced Lyon to become genuine title contenders as well as fielding new players such as Abédi Pelé. Tigana, however left the club, amongst pressure from the French media in 1995. Guy Stéphan took in charge in 1995, following the exit of Tigana and helped Lyon assure a place in European football, once more through the backdoor of the Intertoto Cup. Stéphan resigned at the start of the new season, and Bernard Lacombe was placed as manager immediately. OL were granted a place in the UEFA Cup, but failed to make it through to the Third round after losing to Inter Milan, who were the eventual winners of the tournament. The club's league positions continued to rise at the final stages of the 20th century - sixth in 1998 and third in 1999 and 2000. Olympique Lyonnais have dominated the top French level, Ligue 1, in the early years of the 21st century. After their second-place finish in 2001, OL have won six consecutive Ligue 1 titles (2002-2007), becoming the first club in French history to do so. Lyon's European ambitions have meanwhile never been realised beyond the quarter-finals, however. The club has attracted many top level coaches, each successful in different competitions and areas of the field.
Jacques Santini was appointed in 2000 after leaving his position at FC Sochaux. Santini quickly restored the team and in 2001, Lyon had won Coupe de la Ligue (League Cup), which surprisingly was the club's first major silverware since the 1973 Coupe de France win. He also steered the side to a top-two finish and Lyon, therefore qualified for the UEFA Champions League in second place. Santini was still not popular with the fans for his defensive approach to the game. In 2002, Santini went one better and guided Lyon to their first ever Ligue 1 title, after a win against RC Lens. It still didn't convince the majority of the OL supporters that he was the right man, after suffering an early knockout in the Champions League, and a fortnight after the win, Santini announced his resignation with Lyon. He opted for the France national football team, whom suffered humiliation after being knocked out in the 2002 World Cup. The man who was responsible for delivering three consecutive league titles with Lyon was former Rennes manager Paul Le Guen. Le Guen was highly noted for grooming players such as El Hadji Diouf at his time at Rennes, but he was feared as another failure, according to much of the press. He undoubtedly proved them wrong, and Lyon had improved in Ligue 1 and in the Champions League. Despite finishing third in the Champions League group stages, Lyon were only knocked out due to the goal against rule, which had meant that OL were placed in the UEFA Cup. Lyon lost to Turkish side, Denizlispor after drawing at home. Le Guen won the league once more by one point. Le Guen's second season saw Lyon win their third title and second during his reign. OL were also top of their group in the Champions League, despite the threat of previous winners, Bayern Munich. The team had beaten Real Sociedad in the round of 16, but their luck ran out against FC Porto, who ultimately won the competition.
The club had won the league for a fourth time by a majority margin, but were knocked out of the Quarter-finals in the Champions League, yet again. It had looked like OL were going to cruise through the Semi-finals, after trashing German opponents Werder Bremen, 10-2 on aggregate. They were cruelly knocked out on penalties by PSV Eindhoven and left Lyon fans waiting another year for a Champions League final. A night after Lyon's league success, Le Guen resigned from his position as manager. The news surprised OL fans, who thought that Le Guen would sign a contract extension, and commit himself to the club. He was offered a three-year extension, but decided to leave and be proud of his achievements. Gérard Houllier, former Liverpool manager who had guided the side to a Cup Treble success in 2001, was appointed as the current Lyon boss in 2005, after the resignation of Le Guen. He had inherited a worthy championship side, with the likes of Juninho, Sylvain Wiltord, Sidney Govou, Florent Malouda and Grégory Coupet. He placed Juninho as captain and brought Portuguese international Tiago to the club from Chelsea, in a part-exchange deal for Michael Essien. In his first full season, he had guided the side to a fifth consecutive league title but failed to make an impact in the Champions League, after crashing out to AC Milan at the San Siro. It was their third consecutive Quarter-final appearance in the Champions League. Lyon won the title after Lille's win against Bordeaux.