GERMANY

1937
"Breslau-Elf"
GERMANY 1937 - THE FAMOUS "BRESLAU-ELF"
From left to right: Szepan, Jakob, Gellesch, Lehner, Münzenberg, Goldbrunner, Janes, Siffling, Urban, Kupfer and Kitzinger.
MANAGER:
Sepp HERBERGER
GOALKEEPERS:



Hans JAKOB
Georg KÖHL



DEFENDERS:



Paul JANES
Reinhold MÜNZENBERG
Hans APPEL
Willi BILLMANN
Sigmund HARINGER



MIDFIELDERS:



Andreas KUPFER
Ludwig GOLDBRUNNER
Albin KITZINGER
Rudolf NOACK
Wilhelm SOLD
Erwin SCHÄDLER



FORWARDS:



Ernst LEHNER
Rudolf GELLESCH
Otto SIFFLING
Fritz SZEPAN
Adolf URBAN
Jakob ECKERT
Karl HOHMANN
Ernst POERTGEN
Karl STRIEBINGER
Wilhelm SIMETSREITER

RESERVE PLAYERS:
2-3-5 FORMATION:


"Breslau-Elf"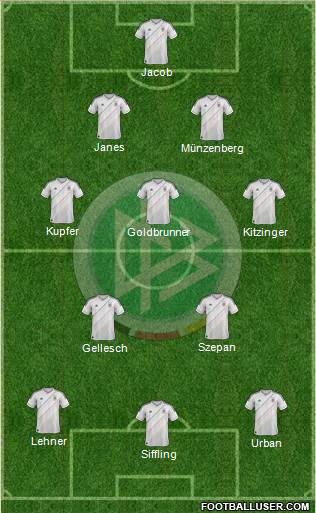 GK
JAKOB
CB
JANES
CB
MÜNZENBERG
CMF
KUPFER
DMF
GOLDBRUNNER
CMF
KITZINGER
SS
GELLESCH
SS
SZEPAN ©
RWF
LEHNER
LWF
URBAN
CF
SIFFLING
Captain: Fritz Szepan
INFORMATION & ADDITIONAL LINKS:
The German National team from 1937 was one of the strongest teams that ever represented Germany. The team won ten of his eleven games in 1937 (only a 2-2 against the Netherlands in the first match in 1937) but the main reason for the enduring fame of this team was the match against Denmark on the 16th of May 1937.
Ernst Lehner scored the 1-0 in the 6th minute and after that Otto Siffling scored 5 goals in only 32 minutes (33rd, 40th, 44th, 48th, 65th minute, he received the nickname "Der Kanonier von Breslau/The gunner of Breslau" for it). In the second half Adolf Urban (70th minute) and Fritz Szepan (78th minute) made it 8:0 for Germany. This result is still the highest loss of Denmark's football national team and is regarded as one of the greatest German football performances ever.
After this stunning win the team received its famous name "Breslau-Elf" (Breslau Eleven). The following matches were won too so that Germany was seen as a favorite for the World Cup 1938 in France. But then politics destroyed this magical team. After the German annexion of Austria ("Anschluss") the political leaders of Germany forced Herberger to create a national team with players from both countries. This decision ended the success of the "Breslau-Elf" and resulted in the first stage exit of the team at the World Cup 1938. Never again a German national team reached such a winning quote in a year but today more and more people forget about this team although it was the strongest German team that never won a trophy.
Nur Hitler konnte sie stoppen