URUGUAY


1950
URUGUAY 1950 WORLD CHAMPION
Standing: Varela, Tejera, Juan Carlos González, Matías González, Máspoli and Víctor Andrade.
Bended: Ghiggia, Pérez, Míguez, Schiaffino and Vidal.
MANAGER:
Juan LÓPEZ FONTANA
GOALKEEPERS:





1

Roque MÁSPOLI
Aníbal PAZ



DEFENDERS:





2

Matías GONZÁLEZ


3

Eusebio TEJERA
Héctor VILCHES
William MARTÍNEZ



MIDFIELDERS:





4

Schubert GAMBETTA


5

Obdulio VARELA


6

Víctor Rodríguez ANDRADE
Rodolfo PINI
Wáshington ORTUÑO
Juan Carlos GONZÁLEZ



FORWARDS:





7

Alcides GHIGGIA


8

Julio PÉREZ


9

Óscar MÍGUEZ


10

Juan Alberto SCHIAFFINO


11

Rubén MORÁN
Luis RIJO
Ernesto VIDAL
Carlos ROMERO
Júan BURGUEÑO
Julio César BRITOS

2-3-5 FORMATION: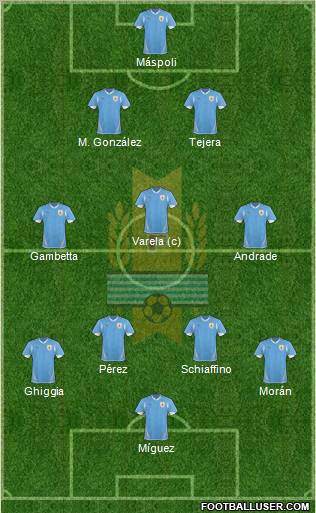 GK
MÁSPOLI
CB
M. GONZÁLEZ
CB
TEJERA
DMF
GAMBETTA/J.C. GONZÁLEZ
DMF
VARELA
DMF
ANDRADE
SS
/
AMF
PÉREZ
SS
/
AMF
SCHIAFFINO
RWF
GHIGGIA
LWF
MORÁN/VIDAL
CF
MÍGUEZ
Captain: Obdulio Varela
Short Free Kick: Juan Alberto Schiaffino
Long Free Kick: -
Free Kick 2: -
Left Corner: Rubén Morán/Ernesto Vidal
Right Corner: Alcides Ghiggia
Penalty: Juan Alberto Schiaffino
HOME KIT:
INFOS:
This was still a skilful Uruguay side, but it also had a toughness, physical and mental.
A draw against Spain and a win over Sweden meant Uruguay had to win its last match to be champions. Its opponents, Brazil, had won both its first two games in the final pool and required only a tie in front of an estimated crowd of over 200,000 in the Maracana. Most thought it was a foregone conclusion. The early editions of O Mundo on the day of the final even carried a team photograph of the Brazil side under the headline "These are the world champions." Obdulio Varela, Uruguay's captain, saw the newspaper on display at the newsstand in his hotel on the morning of the final, and was so enraged that he bought every copy they had, took them back to his room, laid them out on his bathroom floor and encouraged his teammates to urinate on them. That was garra.
Before the game, as the players waited to take the field, Angelo Mendes de Moraes, the state governor of Rio de Janeiro, gave an address in which he hailed, "You Brazilians, whom I consider victors of the tournament ... You players who in less than a few hours will be acclaimed champions by millions of your compatriots ... You who have no equals in the terrestrial hemisphere ... You who are so superior to every other competitor.... You whom I already salute as conquerors." Julio Perez, Uruguay's inside-right, was so overwhelmed by nerves that he wet himself during the anthems. That wasn't garra, but playing superbly afterwards was.
Uruguay's coach, Juan Lopez, had seen how Switzerland had unsettled Brazil in the first group stage with their verrou (bolt) system, dropping deep behind the ball when out of possession with a libero sweeping behind the back line. The war had cut Uruguay off from tactical developments in Europe, but Lopez liked what he saw, realized the formation's effectiveness and instructed the fullback Matias Gonzalez to stay deep, almost as a sweeper, which meant that Eusebio Tejera, the other fullback, became effectively a center back. The two wing-halves, Schubert Gambetta and Victor Andrade, were set to man-mark the Brazilian wingers, Chico and Albino Friaca, while Varela and the two inside-forwards played deeper than usual in what was essentially a forerunner of a modern 4-3-3.
Brazil, subdued rather than neutralized, started well, but they couldn't find an opener. Jair hit the post while Roque Maspoli, in the journalist Brian Glanville's words, "performed acrobatic prodigies in goal" and, after 28 minutes, Varela punched Bigode, Brazil's left back. Both players agree it was barely more than a tap, but in the mythology of the game it was at that moment that the fear enveloped Bigode, at that moment that he became "a coward," the taunt that would pursue him for the rest of his life.
Friaca put Brazil ahead two minutes after halftime, but Uruguay knew by then it could live with Brazil. With 24 minutes remaining, it equalized, Alcides Ghiggia accelerating on the right and crossing low for Juan Schiaffino to sweep the ball in at the near post. "Silence in the Maracana," said Brazil's coach Flavio Costa, "which terrified our players." A draw would still have been enough for Brazil, but the momentum was against them. Ghiggia exchanged passes with Perez, ran on, and with Moacyr Barbosa, the Brazilian goalkeeper, anticipating a cross, struck a bobbling shot in at the near post. The unthinkable had happened, and Uruguay, not Brazil, was world champion.