Team created by Nakayama#9
EAST
GERMANY
1974
EAST GERMANY 1974
Back row: Sparwasser, Seguin, Irmscher, Kreische, Streich, Löwe, Vogel and Hoffmann.
Middle row: Buschner (Manager), Ducke, Wätzlich, Fritsche, Schnuphase, Kurbjuweit, Pommerenke, Lauck and Holke (Assistant Coach).
Front row: Kische, Hamann, Blochwitz, Croy, Friese, Bransch and Weise
MANAGER:
Georg BUSCHNER
GOALKEEPERS:





1

Jürgen CROY


21

Wolfgang BLOCHWITZ


22

Werner FRIESE



DEFENDERS:





2

Lothar KURBJUWEIT


3

Bernd BRANSCH


4

Konrad WEISE


5

Joachim FRITSCHE


12

Siegmar WÄTZLICH


18

Gerd KISCHE



MIDFIELDERS:





6

Rüdiger SCHNUPHASE


7

Jürgen POMMERENKE


10

Hans-Jürgen KREISCHE


13

Reinhard LAUCK


16

Harald IRMSCHER


17

Erich HAMANN


19

Wolfgang SEGUIN



FORWARDS:





8

Wolfram LÖWE


9

Peter DUCKE


11

Joachim STREICH


14

Jürgen SPARWASSER


15

Eberhard VOGEL


20

Martin HOFFMANN




4-3-3 FORMATION: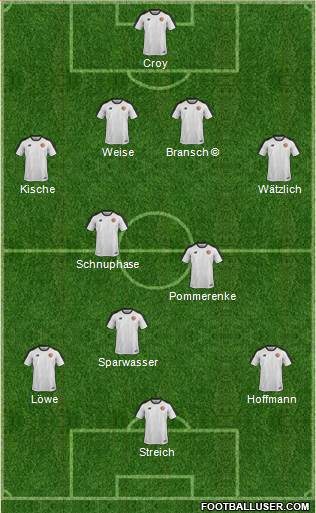 GK

CROY


CB

WEISE / KURBJUWEIT


CB

BRANSCH


RB

KISCHE


LB

WÄTZLICH


DMF

SCHNUPHASE


CMF

POMMERENKE


AMF

SPARWASSER


RWF

LÖWE / HOFFMANN


LWF

HOFFMANN / VOGEL


CF

STREICH
Captain: Bernd Bransch
Short Free Kick: Joachim Streich
Long Free Kick: Jürgen Pommerenke/Joachim Streich
Free Kick 2: Bernd Bransch
Left Corner: Jürgen Pommerenke
Right Corner: Martin Hoffmann/Joachim Streich
Penalty: Joachim Streich
INFOS:
East Germany was not as successful as its Western counterpart in World Cups or European Championships. It never qualified for the finals of the European Championship and only qualified for one World Cup, in 1974. However, they were always serious contenders in qualifying throughout their history.
That tournament was staged in West Germany, and both German teams were drawn in the same group in the first round. With successful games against Chile and Australia, both German teams had qualified early for the second round, with the inter-German game determining first and second in group. Despite this lack of pressure to succeed, the match on 22 June 1974 in Hamburg was politically and emotionally charged. East Germany beat West Germany 1-0, thanks to a goal by Jürgen Sparwasser. This was rather a Pyhrric victory, as the DFV wound up in the possibly stronger second round Group A. The GDR lost to Brazil and the Netherlands, but secured 3rd place in a final game draw with Argentina. On the other hand, the DFB team changed its line-up after the loss, and went on to win all games in the other second round group B, against Yugoslavia, Sweden, Poland, and the World title against the Netherlands.
East Germany did however achieve significantly greater success in Olympic football than the amateur teams fielded by the Western NOC of Germany. In 1956, 1960, and 1964 both states had sent a United Team of Germany. For 1964, the East German side had beaten their Western counterparts in order to be selected. They went on to win Bronze for Germany. As GDR, they won Bronze in 1972 in Munich, Gold in 1976, and Silver medal in 1980 in Moscow, In absence of boycotting Western nations. In the 1980s, football declined in the GDR, as did other parts of public life.
East Vs. West
Over the years of their separate existence, the GDR and FRG played each other only a handful of times. The only notable meeting with professionals from the West was at the 1974 World Cup, which East Germany won 1-0. Three other games were played in Olympic Football where only players with amateur status could represent West Germany, like the young Uli Hoeneß who delayed his pro career in 1972. In the inter-German qualification prior to the 1964 Olympic Games, the two played a two-legged preliminary round tie, the GDR advancing to represent Germany as they won their home leg 3-0, while the FRG won the return 2-1. In the 1972 Olympic Games, the GDR and FRG, having qualified from their First Round groups, met in the Second Round, with the GDR winning 3-2.
HOME & AWAY KITS: