ROMANIA
1994
ROMANIA 1994
Standing: Stelea, Popescu, Prodan, Belodedici, Mihali and Răducioiu.
Bended: Lupescu, Munteanu, Hagi, Petrescu and Dumitrescu.
MANAGER:
Anghel IORDĂNESCU
GOALKEEPERS:





1

Florin PRUNEA


12

Bogdan STELEA


22

Ştefan PREDA



DEFENDERS:





2

Dan PETRESCU


3

Daniel PRODAN


4

Miodrag BELODEDICI


13

Tibor SELYMES


14

Gheorghe MIHALI


19

Corneliu PAPURĂ



MIDFIELDERS:





5

Ioan LUPESCU


6

Gheorghe POPESCU


7

Dorinel MUNTEANU


8

Iulian CHIRIŢĂ


10

Gheorghe HAGI


15

Nică PANDURU


18

Constantin GÂLCĂ


20

Ovidiu STÎNGĂ



FORWARDS:





9

Florin RĂDUCIOIU


11

Ilie DUMITRESCU


16

Ion VLĂDOIU


17

Viorel MOLDOVAN


21

Marian IVAN

5-4-1/3-6-1 FORMATION:
Romania Vs Argentina - Round of 16 (03/07/1994)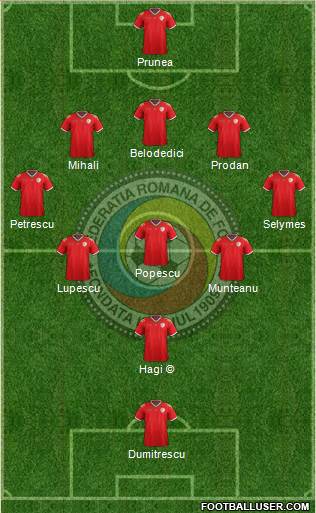 GK
PRUNEA
CB
MIHALI
SWP
BELODEDICI
CB
PRODAN
RB
/
RWB
PETRESCU
LB
/
LWB
SELYMES
DMF
POPESCU
CMF
LUPESCU
CMF
MUNTEANU
AMF
HAGI
SS
/
CF
DUMITRESCU
Substitutions: Gâlcă for Hagi (86 mn) and Papură for Dumitrescu (89 mn)
Captain: Gheorghe Hagi
Short Free Kick: Gheorghe Hagi/Ilie Dumistrescu
Long Free Kick: Gheorghe Hagi/Ioan Lupescu/Miodrag Belodedici/Dan Petrescu/Tibor Selymes
Free Kick 2: -
Left Corner: Ilie Dumistrescu/Gheorghe Hagi
Right Corner: Gheorghe Hagi
Penalty: Gheorghe Hagi
Team Strategy
★
Opposite Side Attack
★
Counter Attack
INFOS:
Romania missed out on Euro 92. Scotland qualified after Romania drew a must-win last match in Sofia against Bulgaria, with Nasko Sirakov's equalizer sealing their fate.
They were successful, though, in reaching another World Cup in the United States in 1994. Despite losing in Belgium and suffering a heavy 5–2 defeat in Czechoslovakia, Romania went into their last match at Cardiff Arms Park with Wales needing a win to pip them to a place in the finals. Goals from Gheorghe Hagi and Dean Saunders meant the game was finely balanced, before Wales were awarded a penalty. Paul Bodin of Swindon Town stepped up but hit the woodwork and Romania went on to win 2–1, Răducioiu's late goal proving unnecessary as Czechoslovakia dropped a point in Belgium and were knocked out.
At the finals, Romania were one of the most entertaining teams in the early stages with Hagi, Răducioiu and Dumitrescu on form. Romania beat Colombia – dark horses and Pelé's tip for the tournament – at the Pasadena Rose Bowl in Los Angeles 3–1. Răducioiu opened the scoring before Hagi scored a spectacular second from wide on the left touchline. Adolfo Valencia shredded their nerves with a headed goal just before half-time, but Romania held on and Răducioiu sealed the win with a late third.
In Detroit's Pontiac Silverdome, the temperature soared due to the greenhouse effect in the indoor arena. Switzerland, acclimatized after having already played the hosts there, outran Romania in the second half and turned a 1–1 half time score into a surprising 4–1 win. Romania responded by beating the hosts 1–0 in Pasadena with an early Dan Petrescu goal.
In Round 2 they faced Argentina, who were shorn of Diego Maradona who was thrown out of the tournament for taking drugs. Răducioiu, suspended, was hardly missed, as coach Anghel Iordănescu pushed Dumitrescu forward to play as a striker and the player responded by scoring twice in the first twenty minutes, one a superbly subtle left foot flick from a right-wing Hagi cross slotted between the Argentine defenders. In between, Gabriel Batistuta scored a penalty, but after half-time Romania netted a superb third on the counter attack, with Hagi beating goalkeeper Luis Islas. Abel Balbo pulled one back, but Romania held on for a shock win.
Romania would suffer penalty heartbreak again, in the Quarter Final against Sweden. With just thirteen minutes to go, a tight match opened up as Sweden's Thomas Brolin scored from a clever free-kick move, the ball passed outside the Romanian wall by Håkan Mild for Brolin to smash in. Iordănescu threw caution to the wind and the returning Răducioiu found a late equalizer, again from a free-kick move but this time down to a deflection and a failure of the Swedes to clear. In extra time Răducioiu scored again after a mistake by Patrik Andersson, but Sweden then scored their own late equalizer as giant striker Kennet Andersson climbed above goalkeeper Florin Prunea to head home a long ball. Prunea had come in after two matches to replace Bogdan Stelea, whose confidence was shattered by the 4–1 loss to the Swiss. In the shoot-out, Dan Petrescu and Miodrag Belodedici had their kicks saved by Thomas Ravelli and Sweden went through.
HOME & AWAY KITS: