Fudbalski Klub Partizan Beograd All Stars
GOALKEEPERS:
Milutin ŠOŠKIĆ
Ivan ĆURKOVIĆ
DEFENDERS:
Nenad STOJKOVIĆ
Bruno BELIN
Miodrag JOVANOVIĆ
Branko RAŠOVIĆ
Fahrudin JUSUFI
Blagoje PAUNOVIĆ
Ivan GOLAC
Milan DAMJANOVIĆ
MIDFIELDERS:
Jovan MILADINOVIĆ
Velibor VASOVIĆ
Zlatko ČAJKOVSKI
Vladica KOVAČEVIĆ
Stjepan BOBEK
Momčilo VUKOTIĆ
Branko ZEBEC
Zvezdan ČEBINAC
ATTACKERS:
Nenad BJEKOVIĆ
Milan GALIĆ
Mustafa HASANAGIĆ
Marko VALOK
Miloš MILUTINOVIĆ
*************************************************************
RESERVES:
GOALKEEPERS:
Petar BOROTA

Franjo ŠOŠTARIĆ

Fahrudin OMEROVIĆ
DEFENDERS:
Miodrag JEŠIĆ

Vujadin STANOJKOVIĆ

Ljubomir RADANOVIĆ

Ljubomir MIHAJLOVIĆ

Kiril SIMONOVSKI

Mladen KRSTAJIĆ

Admir SMAJIĆ

Lazar RADOVIĆ

Predrag PAŽIN

Niša SAVELJIĆ

Jusuf HATUNIĆ

/
Velimir SOMBOLAC

Miodrag BAJOVIĆ

Zoran MIRKOVIĆ
MIDFIELDERS:
Aleksandar TRIFUNOVIĆ

Damir ČAKAR
Saša ILIĆ

Tomislav KALOPEROVIĆ

Dragan ĆIRIĆ

Xevat PREKAZI
Nebojša VUČIĆEVIĆ

Mane BAJIĆ

Branko BRNOVIĆ
Dimitrije DAVIDOVIĆ

Prvoslav MIHAJLOVIĆ
Nikica KLINČARSKI

Borivoje ĐORĐEVIĆ

Igor DULJAJ

Albert NAĐ

Radoslav BEČEJAC




ATTACKERS:




Ilija KATIĆ

Fadil VOKRRI

Pavle GRUBJEŠIĆ

Zvonko VARGA

Branislav MIHAJLOVIĆ

Zvonko ŽIVKOVIĆ

/
Josip PIRMAJER

Miloš ĐELMAŠ

Ilija ZAVIŠIĆ

Joakim VISLAVSKI

Dragan MANCE

Milko ĐUROVSKI
Idriz HOŠIĆ
Predrag MIJATOVIĆ
ADDITIONAL IMAGES AND INFO: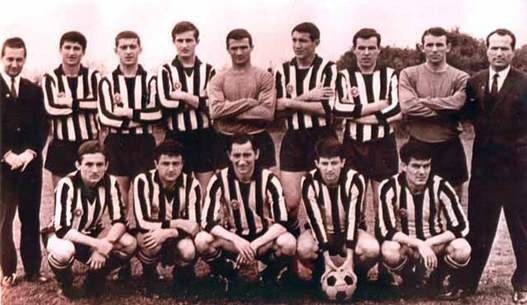 Football club Partizan Belgrade football club which was founded in the 4th October 1945th as part of the Yugoslav Sports Association Partizan. Today, the Sports 25 clubs in as many sports, is a member and on and Football Club, has complete independence in the organization, management, finance, material resources and facilities. With Soccer Club for several companies as a part of the business system Partizan. FK Partizan, with their fiercest rivals, Red Star, is the most important Serbian team and a team that, in recent years, Serbia maintains the UEFA rankings of European League competitions near a position that allows two representatives in the Champions League. The 1966th Partizan was vice champion of Europe in 1978. Central European Cup winner. Momcilo Vukotic recorder Partizan most games played - played 752 games, a record in the number of goals scored in "black and white" is Stjepan Bobek with 403 hits. For the Yugoslav national team performed over 130 Partizan football players, and more than fifty games played Bobek, Zebec, Čaikovsky, Jusufi, Galic Soskic, Jokanović, Mijatovic and Milosevic. Partizan cherishing game that cost experts and viewers around the world, so it is a very welcome guest of the first neighborhoods to the stadiums of South America. Based on this game seems ready to rally, which is based on individual values ​​and organization of, mastery that eludes every trap and force. It Partizan school football favors and efficiency. Black and white are the current league competitions achieved six wins from ten or more goals given in the two championships achieved by more than a hundred goals and keep a record of the Yugoslav First League with 111 hits in a single championship.
Football club Partizan 24 times a champion: 1947, 1949, 1961, 1962, 1963, 1965, 1976, 1978, 1983, 1986, 1987, 1993, 1994, 1996, 1997, 1999, 2002, 2003, 2005, 2008, 2009, 2010, 2011, 2012.2013.
National Cup champion was 12 times: 1947, 1952, 1954, 1957, 1989, 1992, 1994, 1998, 2001, 2008, 2009, 2011.
Winner of the National Super Cup: 1989
Vice champion of Europe: 1966
Central European Cup winner: 1978
UHREN Cup winner: 1989