Name:
Giovanni Galli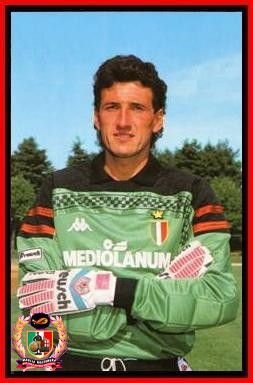 Country:
Italy
Club:
ACF Fiorentina, AC Milan
Number:
1 | 12
Position: *
GK
Side: RF/BS
Age: 26-31 years (29/04/1958)
Height: 187 cm
Weight: 79 kg
Attack:
30
Defence:
87
Balance:
85
Stamina:
64
Top Speed:
69
Acceleration:
72
Response:
93
Agility:
78
Dribble Accuracy:
49
Dribble Speed:
49
Short Pass Accuracy:
57
Short Pass Speed:
52
Long Pass Accuracy:
62
Long Pass Speed:
60
Shot Accuracy:
41
Shot Power:
75
Shot Technique:
44
Free Kick Accuracy:
44
Curling:
42
Header:
46
Jump:
86
Technique:
50
Aggression:
60
Mentality:
81
Goalkeeper Skills:
90
Team Work:
72
Injury Tolerance:
B
Condition:
6
Weak Foot Accuracy:
4
Weak Foot Frequency:
4
Consistency:
6
SPECIAL ABILITIES:
CARDS:
Growth Type: Standard/Lasting
Attack/Defence Awareness: Defence-Minded
INFOS:
In a professional career which spanned nearly two decades, he played in 496 Serie A games, mainly with Fiorentina (nine seasons) and Milan (four), winning six major titles with the latter club.
An international in the 80s, Galli appeared with Italy in two World Cups.
Club career
Born in Pisa, Galli started his professional career with ACF Fiorentina, where he played in nine Serie A seasons. In 1986–87, he joined fellow league side A.C. Milan, being first-choice for three of his four years and starting in both of the club's back-to-back European Cup conquests, in 1989 and 1990.
In the 1990 summer, following Milan's signing of Sebastiano Rossi, 32-year old Galli left, going on to represent S.S.C. Napoli and appearing in an average of 33 league games during his three-year spell, starting by winning the Italian Supercup, 5–1 against Juventus FC. He finished his stint in the top division at the end of 1994–95, after starting for Torino Calcio and being backup at AC Parma.
Galli retired at the age of 38 after a brief stint with A.S. Lucchese-Libertas of Serie B. In December 2007, he joined Hellas Verona F.C. as its director of football, leaving his position after only two months in charge.
International career
Galli took part in Italy's 1982 FIFA World Cup expedition, without playing any match. The same had already happened in the UEFA Euro 1980 tournament; his national team debut happened in a friendly match against Greece on 5 October 1983 (3–0 win).
As a starter, Galli played in the 1986 World Cup in Mexico, as Italy were ousted in the round of 16 by France.