Stats by Nakayama#9
Name: Norbert Nachtweih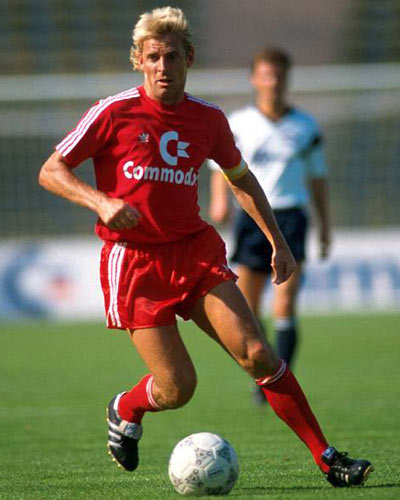 Country:
Germany (
East Germany)
Club:
FC Bayer

n Munich
Number: -
Position: *
SB
,
CWP
,
WB
,
CMF
,
WF
Side: RF/BS ( Mainly on the right )
Age: 27-32 years (04/06/1957)
Height: 174 cm
Weight: 72 kg
Attack:
76
Defence: 72
Balance:
78
Stamina:
84
Top Speed:
80
Acceleration:
82
Response:
79
Agility:
83
Dribble Accuracy:
82
Dribble Speed:
81
Short Pass Accuracy:
79
Short Pass Speed:
77
Long Pass Accuracy:
84
Long Pass Speed:
83
Shot Accuracy: 73
Shot Power:
90
Shot Technique:
75
Free Kick Accuracy:
75
Curling:
83
Header: 68
Jump: 70
Technique:
78
Aggression:
76
Mentality/Tenacity:
79
Goalkeeper Skills: 50
Team Work:
84
Injury Tolerance:
B
Form/Condition/Fitness:
7
Weak Foot Accuracy:
6
Weak Foot Frequency:
6
Growth Type: Standard Lasting
CARDS:
-
SPECIAL ABILITIES:
-
Attack/Defence Awareness Card:
Balanced
INFO
Norbert Nachtweih (born 4 June 1957) is a retired German professional footballer who played as a defender or midfielder.
He played in 325 Bundesliga games over the course of 13 seasons (46 goals), playing for Eintracht Frankfurt and Bayern Munich and winning eight major titles combined, including four national championships with the latter.
Football career
Born in Sangerhausen, East Germany, Nachtweih moved to West Germany in 1976, signing with Eintracht Frankfurt, for which he appeared as a midfielder over the course of five Bundesliga seasons, scoring 25 goals in his last three years combined and winning the 1979–80 UEFA Cup (11 appearances, one goal) against fellow league side Borussia Mönchengladbach.
In the 1982 summer, Nachtweih joined FC Bayern Munich, contributing with 85 games and ten goals as the Bavarians won three consecutive national championships from 1985–87 (of the four he conquered with the team during his spell), and also being regularly played as a defender. In 1989, the 32-year old moved to France and signed for AS Cannes, partnering a young Zinedine Zidane in two Ligue 1 seasons, and helping the club qualify to the UEFA Cup in his first.
After a brief spell with Eintracht, Nachtweih signed with second division's SV Waldhof Mannheim in December 1991. He retired from professional football after five seasons at the age of 39, but still competed a few years at the amateur level.
After his active career, Nachtweih managed SV Bernbach and FK Pirmasens (first as a youth coach). Subsequently, he returned to Eintracht Frankfurt, working in the club's football academy.
Defection
In October 1976, following a under-21 international game, Nachtweih fled to West Germany via Turkey alongside Jürgen Pahl, being suspended one year by FIFA. Even though he was one of the best German footballers in the 1980s, FIFA formalities forbade a career in the West German national team, as he had previously appeared with East Germany.
Honours
Eintracht Frankfurt
UEFA Cup: 1979–80
DFB-Pokal: 1980–81
Bayern Munich
Fußball-Bundesliga: 1984–85, 1985–86, 1986–87, 1988–89
DFB-Pokal: 1983–84, 1985–86; Runner-up 1984–85
European Cup: Runner-up 1986–87
Additional Info:
I don't think he's underrated , he's almost good as Phillip Lahm who's probably the best german SB in history of german football , not that he's this great but he's much better than Nachtweih and SB's never had a big role in german football .
Players like Brehme are WB's not SB's in reality no german player should have SB as registerd position from before the 2000's .
The first ever coach who tried a real SB on highest level in german football was Erich Ribbeck (no comment) , using Christian Wörns on this position ( no comment again ).
The SB position is just existend as in Brazil the sweeper position is , some players can play it but it's simply not their nature .