Stats by DimonSpa & JeanMarc & Beiderbecke



Full name: Albert Alekseevich Shesternyov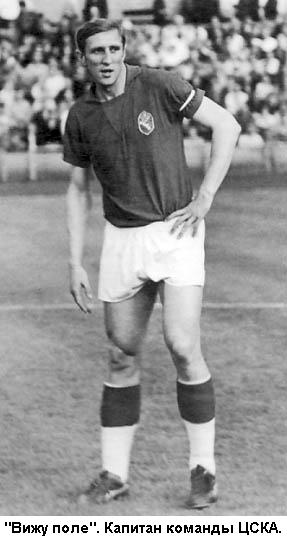 Country:
Russia (
USSR)
Club: CSKA Moscow
Number: 6
Position: *
CWP
,
CB
Side: RF/BS
Age: 22-29 years (20/06/1941)
Height: 183 cm
Weight: 82 kg
Attack: 60
Defence:
93
Balance:
91
Stamina:
83
Top Speed:
85
Acceleration:
80
Response:
87
Agility:
75
Dribble Accuracy: 73
Dribble Speed:
75
Short Pass Accuracy:
76
Short Pass Speed: 71
Long Pass Accuracy:
77
Long Pass Speed: 74
Shot Accuracy: 64
Shot Power:
86
Shot Technique: 64
Free Kick Accuracy: 64
Curling: 63
Header:
85
Jump:
90
Technique:
75
Aggression: 60
Mentality:
89
Keeper Skills: 50
Team Work:
81
Injury Tolerance:
B
Condition/Form:
7
Weak Foot Accuracy: 5
Weak Foot frequency: 5
Dribbling style: 1
Growth type: Standard
CARDS:
S07:
Man Marking
S09:
Covering
S10:
DF Leader
SPECIAL ABILITIES:
Marking - Covering - D-Line control
Attack/Defence Awareness Card: Defence Minded
INFO:
Played for CSKA Moscow (1961-72), debuted in 19 years, became a captain in the 21. In the Championships of the USSR had 278 matches, 1 goal.
In the USSR national team had 90 matches, and 1 informal match. The USSR Olympic team played 9 games. Finalist: 1964 European Cup.
Semi-finalist at the FIFA World Cup 1966 (4th place).
In 1970 was one of the Top-10 players of Europe (France Football weekly poll).
Best (1970) and third (1966, 1968, 1969) Player of the USSR (the weekly newspaper "Football").
In All Stars Team Championship of the USSR 10 consecutive years: 1963 - 1972.
Champion of USSR: 1970.
Bronze-prize winner of the USSR: 1964, 1965.
In 17 years he ran over 11 seconds to 100 metres, was champion not just area, but also of Moscow and Moscow region, showing excellent results in the 200 metres long and triple jump. He was offered a seriously Athletics All-around. But the heart boy with Losinki have long time won the football.
In those years, the domestic football painfully experienced tactical shift priorities. Instead of the old schema twin-ve has implemented the "Brazilian" 4 + 2 + 4. Departure from the old gaming habits occurred most players and teams painful new thinking on the box, unconventional, broader role players were struggling. Shesternev found himself in a new environment without any problems. Perhaps partly because he was lucky. Fate has chosen its entry in the great football on time. He turned out to be a beginner, before one's eyes not appearing stereotypes, role models, he did not have to be rebuilt. Beskov had indicated him position on the field, has taught the new position of tactical wisdom and these grains fell on fertile ground. Albert Shesternev, sprinter, athlete – and was even born. He quickly learned to read the game feel intuitively anticipate developments, although it is true to yourself – how it is possible, always replied: "So I did the last defender, my position is best visible field."
The extent to which fits organically young player in new tactical schema, shows and his first challenge in NT in only four months after the debut in CSKA.... With a mind that was usual stopper, drew attention to the his phisique. But first, the training he surfaced frantic speed, excellent jumping, cold calculation, along with hot desire not to give in struggles that in most cases. He sought to cover the entire width of the field and, to a complete surprise, has always been in the right place. And took no speed, and choose position: make two or three steps, and the ball already him immediately pass to the partner. Even he himself couldn't explain how he succeeded.
European Championship qualifying match against Italy on 13 October 1963 brought a young defender first European fame. Within an hour and a half Shesternev did not play such a footballer as Rivera-magnificent technician, fast and clever. He is completely turned off his game. The USSR won 2-0.
Skate the Shesternev was incredible, especially when his size, speed, which makes him sometimes even give distance handicap contender. But this is just so it seemed he climbed to the top speed is very slow, the expecting that a competitor has thus been ahead of him at seven to eight metres. And now Aleksandr long, powerful step begins his track, barely reaches the line of the penalty area as Shesternev using shell selects his ball, damages, literally and expands to center field with the ball in the legs. The impression that even while on the road and yak away, he would be up front running forward.