Name: Armando Segato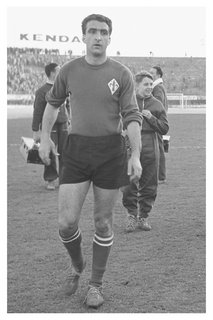 Country:
Italy
Club: ACF Fiorentina
Position: *
CMF
,
DMF
,
WF
Side: LF/LS
Age: 23-29 years (03/05/1930)
Height: 178 cm
Weight: 74 kg
Attack:
78
Defence:
68
Balance:
77
Stamina:
84
Top Speed:
81
Acceleration:
82
Response:
81
Agility:
83
Dribble Accuracy:
82
Dribble Speed:
78
Short Pass Accuracy:
86
Short Pass Speed:
79
Long Pass Accuracy:
85
Long Pass Speed:
77
Shot Accuracy:
73
Shot Power:
81
Shot Technique:
72
Free Kick Accuracy:
68
Curling:
76
Header:
77
Jump:
83
Technique:
82
Aggression:
72
Mentality:
83
Goalkeeper Skills:
50
Team Work:
86
Injury Tolerance:
B
Condition:
7
Weak Foot Accuracy:
5
Weak Foot Frequency:
5
Consistency:
7
Growth type:
StandardCARDS:
P
08 Pinpoint Pass
P
15 Talisman
S
02 Passer
S
05 1-touch Play
SPECIAL ABILITIES:
Passing - Playmaking - 1 touch Pass
Attack / Defence Awareness Card:
Balanced
INFO
Armando Segato started as left winger, but played left wing half position where he was in charge of constructing the attacks and supporting the offensive play thanks also to left winger Maurilio Prini who was constantly chasing back to help in deffensive moves. A left halfback, Segato was known in particular to the 'Viola' fans for his accurate left-footed defence-splitting passes and crosses, which often met the runs of Fiorentina team-mates Julinho and Virgili. He was known to be a loyal, correct and athletic midfielder, who was known for leading by example on the pitch, and was well-respected by both his opponents and team-mates alike. Segato was very agile player with good speed and passing range, very endurable player who always showed great determination and was strong in aerial battles. He is the absolute protagonist of the first Viola title, playing all the games of the season 1955-56. Flag of Fiorentina for 8 championships, held on the purple shirt 216 matches, making 16 goals. To his credit up to four consecutive second places and a League Cup final, losing against Real Madrid in 1957. Closes his career nell'Udinese. His international debut in November 1953 against Egypt. Is convened for the World Cup in 1954 and 6 May 1959 is the captain of the blue team, which goes undefeated for the first time at Wembley Stadium against England 's (2-2 the final result). Closes with 20 appearances. He died February 19, 1973. His untimely death is approached in the investigation, because he was the first player died from Gehrig's disease, a disease lethal to many other players.