Name: Rinaldo Fioramonte Martino

Nicknames: "Mamucho", "Zampa di Velluto"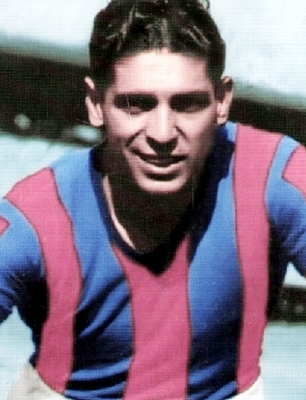 Country:
/
Argentina/Italy
Clubs: Club Atlético San Lorenzo de Almagro (1941-1948), Juventus F.C. (1949-1950)
Position: *
SS
,
AMF
,
CF
Number:
10
Side: RF/BS
Age: 24-29 years (06/10/1921)
Height: 171 cm
Weight: 74 kg
Attack:
92
Defence:
37
Balance:
78
Stamina:
79
Top Speed:
81
Acceleration:
83
Response:
79
Agility:
85
Dribble Accuracy:
93
Dribble Speed:
83
Short Pass Accuracy:
90
Short Pass Speed:
77
Long Pass Accuracy:
87
Long Pass Speed:
75
Shot Accuracy:
85
Shot Power:
89
Shot Technique:
88
Free Kick Accuracy:
72
Curling:
77
Header:
79
Jump:
76
Technique:
92
Aggression:
85
Mentality:
77
Keeper Skills:
50
Team Work:
82
Injury Tolerance:
B
Condition/Fitness:
7
Weak Foot Accuracy:
6
Weak Foot Frequency:
6
Consistency:
6
Growth Type:
Early Peak
CARDS:
P05:
Trickster
P07:
Mazing Run
P13:
Long Ranger
S02:
Passer
S05:
1-touch Play
S14:
Quick Turn
SPECIAL ABILITIES:
Dribbling - Tactical Dribble - Passing - Playmaking - 1 touch Pass - Middle Shooting
Attack / Defence Awareness Card: Attack Minded
INFO:
Fantastic player, some people say he was better than Maradona. Mamucho had lethal combination of skills: Almost perfect dribbling and technique, laser precise passes, rocket shot from all positions and angles. Fantastic playmaker and great scorer as well with his smooth touches and ferocious shooting. Martino was signed by San Lorenzo de Almagro in 1941 at the age of 19 from Belgrano de Rosario. He made his debut in 1941 against Newell's Old Boys and in 1942 he became the top scorer in the Argentine Primera netting 25 goals in 30 games. In 1946 the team won the Primera División championship. In 1949 Martino moved to Italy joining Juventus and helping them to record their first championship since the 1930s. During his time in Italy he made one appearance for the Italy national team.Martino then moved to Uruguay to play for Nacional helping them to win the Uruguayan Championship. In 1951 Martino returned to Argentina to play for Boca Juniors but he was sold back to Nacional in 1952 for 300,000 pesos. He played there until 1953, helping the team to win another Uruguayan league title and several other minor titles. In 1953 he joined C.A. Cerro who were his last club. Martino played for Argentina in the 1940s, he made his debut in 1942 in a 4-1 win over Uruguay. He was part of the Argentina squads that won the Copa América in 1945 and 1946. During his time in Italy he also made a single appearance for the Italy national team. In 1964 he served as the president of the Argentine ex-footballers mutual society. Martino's love of Argentine Tango led him to establish a Casa Porteño called Caño 14 in the 1960s which featured traditional tango music for 18 years. He died in Buenos Aires in 2000 at the age of 79.