Name: Giuseppe Casari

Nickname: "Bepi"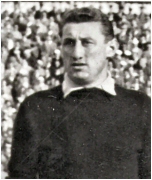 Country:
Italy
Clubs: Atalanta B.C. (1946-1950), S.S.C. Napoli (1950-1952)
Position: *
GK
Side: RF/BS
Age: 24-30 years (10/04/1922)
Height: * 178 cm (not sure)
Weight: * 83 kg (not sure)
Attack:
30
Defence:
87
Balance:
84
Stamina:
65
Top Speed:
71
Acceleration:
72
Response:
91
Agility:
78
Dribble Accuracy:
50
Dribble Speed:
54
Short Pass Accuracy:
54
Short Pass Speed:
57
Long Pass Accuracy:
56
Long Pass Speed:
60
Shot Accuracy:
42
Shot Power:
79
Shot Technique:
43
Free Kick Accuracy:
41
Curling:
44
Header:
46
Jump:
88
Technique:
53
Aggression:
59
Mentality:
85
Keeper Skills:
87
Team Work:
76
Injury Tolerance:
A
Condition/Fitness:
7
Weak Foot Accuracy:
4
Weak Foot Frequency:
4
Consistency:
6
Growth Type:
Standard
CARDS:
S11:
Penalty Saver
SPECIAL ABILITIES:
PK Stopper
Attack / Defence Awareness Card: Balanced
INFO:
Giuseppe Casari is a former Italian footballer in goalkeeper role. Tall and strong, with exceptional physical capacities capable of bringing together style and sense of positioning. Born in Martinengo (BG), starts playing in Atalanta, where he militaries until 1949-'50 season. He flew from one side of the door to other, and loved to perform in positions parried plastics. Character unique-looking simpleton but really smart and clever. Born and raised in Bergamo he debuted for his local Atalanta in the 1944 regional championship and in Serie A the following year. In 1948 he was the starting goalie for the national team at the London Olympics but after a shutout against the U.S. five goals got past him against Denmark. He was part of the 1950 World Cup team as a reserve behind Sentimenti IV but in the inconsequential game against Paraguay Giuseppe Moro was called on instead. After the World Cup he went to Napoli where he earned four caps for the national team although he did not secure a permanent starting position(the national team had called up 12 goalkeepers in a matter of 15 years). In 1948 he was called by Vittorio Pozzo to participate in the first post-war Olympics in London. Switch to Napoli for the 1950-'51 season and started three years of great satisfaction, was beloved by the fans with whom he often stopped to chat. Casari is also called 4 times to defend the door of the National Team in Lisbon on 08/04/1951 (Portugal-Italy 1-4). Finally accepting the offers of Padova where he had the satisfaction of a promotion from Serie B and stays there until the end of 1955-'56, when he retired from active playing. An interesting occurrence of which he did figure in at the 1950 World Cup was at their disappointing 3-2 loss to Sweden. The frustrated Italian fans were taunting the team; Casari responded in kind inciting further chaos causing the team to have to flee in order to avoid being lynched.